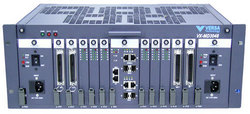 We are really excited to be working with DIRECTV on this project. The new MFH3 system is years ahead of everyone else, allowing operators to deliver a complete content package that includes the best HD Channels around.
Chino,CA (PRWEB) December 10, 2008
Versa Technology becomes the first VDSL2 manufacturer to successfully obtain approval for deployment in conjunction with MFH3™, a DIRECTV satellite to IP distribution technology developed by DIRECTV and Thomson. Versa Technology, a last mile solutions company, has successfully manufactured and deployed the VX-MD3024 VDSL2 DSLAM along with the VX-VEB165 VDSL2 Modem as a distribution solution to multifamily housing units alongside the MFH3™ head end system. The Versa Technology VX-MD3024 can provide up to 100Mbps Symmetrical service over existing copper lines and can reach long distances while using technology backwards compatible with ADSL2+.
The Versa Technology VX-MD3000 Series VDSL2 Triple play solution is a global leader at delivering broadband services in IPTV deployments around the world. With thousands of lines already deployed and many more in the process of being deployed, it is a proven technology in a relatively immature marketplace. The VX-MD3024 has such features as 802.1D STP, 802.1p QoS, 802.1Q VLAN, 802.1w RSTP, 802.3 CSMA/CD, 802.3 ad Link Aggregation, 802.3u 100 Base-X Fast Ethernet, 802.3x Flow Control. It also allows configurable rate-limit per bridge port per VLAN so that service provider can still limit the amount of bandwidth each user consumes through basic internet browsing.
The Versa Technology VX-HG166 is the world's first and only six port VDSL2 Home Gateway Modem that can support the VDSL2 Profile 30A, that allows 100mbps symmetrical bandwidth. The VX-HG166 allows up to four HDTV televisions, a computer and a VOIP phone, all connected over the same network with plenty of bandwidth to spare.
MFH3 is DIRECTV's first satellite TV distribution system to multiple dwelling units (MDU) to utilize IP for the delivery of TV services. MFH3 supports all DIRECTV services, including the new Ka-band satellite services and DIRECTV On Demand ensuring an outstanding user experience for today's MDU customer.
Other features of MFH3 include:

Delivers the full suite of DIRECTV programming and services (including all HD programming) to multiple receivers via a single home-run wire to the customer dwelling.
Integrates with High-Speed Data services, allowing operators to support double and triple-play bundles
Supports remote management functions using standard SNMP management tools, including software upgrades
Supports a variety of property network wiring topologies including Copper with VDSL2, fiber-to-Cat5, and fiber-to-Coax
Joe Taylor, Director of Business Development for Versa Technology, had this to say about MFH3, "We are really excited to be working with DIRECTV on this project. The new MFH3 system is years ahead of everyone else, allowing operators to deliver a complete content package that includes the best HD Channels around." Joe Taylor also had this to say about how easy MFH3 is to deploy "With almost 100% of buildings having copper twisted pair already run to the end users, using a VDSL2 solution to distribute multiple HD streams with plenty of bandwidth to spare is a great choice for all operators."
About Versa Technology
Versa Technology, located in Chino, California, is a company that provides both fiber and copper for last mile solution. With worldwide offices in Korea, China and the United States, Versa Technology has taken advantage of the global marketplace to grow at an amazing pace. Versa Technology provides a wide range of copper solutions, giving service providers the choice of ADSL2+, VDSL and VDSL2. Versa Technology also provides FTTH Solutions to providers looking to deploy next generation fiber optic networks. Versa Technology is one of the few companies in the world that can provide the complete last mile solution.
About DIRECTV
DIRECTV, Inc. (NASDAQ:DTV - News), the nation's leading satellite television service provider, presents the finest television experience available to more than 17.1 million customers in the United States and is leading the HD revolution with more than 130 HD channels - more quality HD channels than any other television provider. Each day, DIRECTV subscribers enjoy access to over 265 channels of 100% digital picture and sound, exclusive programming, industry-leading customer satisfaction (which has surpassed all national cable companies for eight years running) and superior technologies that include advanced DVR and HD-DVR services and the most state-of-the-art interactive sports packages available anywhere. For the most up-to-date information on DIRECTV, please visit http://www.directv.com.
###