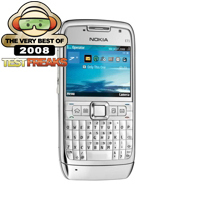 Pittsburgh, PA (PRWEB) December 5, 2008
TestFreaks collects and analyzes close to 3 million expert and user reviews from over 60 countries to help users make the right decisions. It's December and time to sum up the year in with the best consumer electronics products, starting with the best cell phones of 2008.
5) Coming in at number five we've got the Nokia N85, it's rather small slider with a touch sensitive navigation wheel and an accelerometer as well, along with a 2.6 inch OLED screen to round things out. Expert Score 8.4 (10 experts), User Score 9.1 (51 users)
4) at the number four spot we've got the Nokia E66, a slider phone that's packed with features like GPS and FM radio.
Expert Score 8.6 (25 experts), User Score 8.3 (66 users)
3) for the number three spot we've got the Sony Ericsson W760i, a slick slider phone with excellent sound quality and an attractive price. Expert Score 9.3 (25 experts), User Score 8.4 (330 users)
2) At the number two spot we've got the BlackBerry Bold, it's a phone that was just recently introduced but very quickly won the hearts of consumers and professionals alike. Expert Score 8.5 (37 experts), User Score 8.3 (119 users)
1) and at the number one spot we've got another Nokia, the Nokia E71 which resembles a BlackBerry actually. The E71 has been called the best phone for the prosumer, it's been said that it takes the best of the BlackBerry and iPhone and combines these things into a well designed package that most anyone will appreciate. Expert Score 8.9 (33 experts), User Score 8.9 (557 users)
As you can see if was a good year for Nokia, despite the popularity of the iPhone, and the introduction of the new BlackBerry, Nokia succeeded in coming out on top, taking three out of the top five slots of 2008 for popularity among both professionals and regular users alike. All these amazing phones deserve the TestFreaks Award "The very best of 2008" since they have truly excelled and received praise from both hardcore experts and fellow consumers.
More about TestFreaks
TestFreaks aims to be the worlds largest review database and is currently available on 18 markets/languages and are reaching 4 million happy review lovers from all over the world each month.
http://www.testfreaks.com/
###