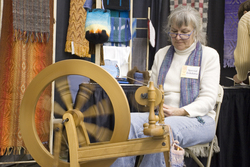 Hampton, VA (Vocus) December 4, 2008
This February 26- March 1, 2009, the city at the "center of it all" will once again welcome the Mid-Atlantic Quilt Festival (MAQF) to the Hampton Roads Convention Center. Now entering its 20th year, MAQF is one of the most anticipated quilt gatherings on the eastern seaboard. The show is expected to draw upwards of 10,000 attendees.
Presented by Mancuso Show Management, this year's festival will offer over 250 vendor booths showcasing quilting supplies, sewing related craft items, clothing, textiles, and more. There will also be plenty of special exhibitions, as well as lectures and workshops by talented instructors
This year's theme, entitled "Virginia is for Quilters", allows entrants the chance to "demonstrate and celebrate." Be sure to check out the wearable art competition and cast your vote for the "Quilt" and "Wearable Viewer's Choice Awards". Winners will be announced on Saturday, February 28.
Mid-Atlantic Quilt Festival Hours:
Thursday, February 26- 10:00 a.m. - 6:00 p.m.
Friday, February 27- 10:00 a.m. - 6:00 p.m.
Saturday, February 28- 10:00 a.m. - 6:00 p.m.
Sunday, March 1- 10:00 a.m. - 4:00 p.m.
Mid-Atlantic Quilt Festival Admission:
$14.00 admission (includes re-admission)
$12.00 admission- SUNDAY ONLY
Children under 16- FREE

Discounts for 20 or more can be arranged by calling 215-862-5828
New to the Mid-Atlantic Quilt Festival this year is Quilter's Bingo Trivia. Taking place at 8:00 p.m. on Friday, February 27, this exciting new event is hosted by Pat Yamin, a quilt festival veteran. Take a break from the sewing machine for an evening of fun, prizes, and more.
More information on the Mid-Atlantic Quilt Festival can be obtained by visiting http://www.quiltfest.com or emailing adam(at)quiltfest.com. For assistance in planning a Hampton tour and a free Hampton Group Tour Manual, contact Bruce Newton at the Hampton Convention & Visitor Bureau, 800/487-8778 or [email protected]
Officially opened since May of 2005, the Hampton Roads Convention Center (located in Hampton, VA between the cities of Williamsburg and Virginia Beach) offers 344,000 square-feet of unique convention and exhibit space. The center boasts 35 meeting spaces with the capacity for up to 14,000 delegates, as well as a 108,000 square-foot exhibit hall, divisible by three. The center is supported by over 2,500 hotel rooms in close proximity, including a new John Q. Hammons-owned Embassy Suites hotel which connected to the center. There are 3,000 rooms citywide.
Partially bordered by the Hampton Roads harbor and Chesapeake Bay, Hampton,
with the 344,000 sq. ft. Hampton Roads Convention Center, is located in the center of the Hampton Roads metropolitan area. Hampton is the site of America's first continuous English-speaking settlement and is home to such visitor attractions as the Virginia Air & Space Center and Riverside IMAX ® Theater, the Cousteau Society, Hampton History Museum, harbor tours and cruises, Hampton University Museum, Fort Monroe, award-winning Hampton Coliseum, The American Theatre, among others. Hampton was twice-named All-America City, the nation's oldest and most prominent community recognition award.
###