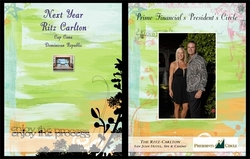 For all the work put into an event like an incentive trip, there is often not much to show for it afterward
Denver, CO (PRWEB) December 9, 2008
Five Star Memories recently announced the launch of a new collaborative memory book site (http://www.fivestarmemories.com ) for incentive and top producer trips. Meeting planners and guests use the site to share photos from incentive trips and easily create personalized memory books using the photos and details most important to each of them.
Matt Ryan, creator of Five Star Memories, realized in 2004 that he had very little to show for his world travels- almost no photos and no way to recapture those events. Realizing that many people had digital cameras, Matt saw the need to find a way for their photos to be shared. This led to the launch of Five Star Memories in 2004. The site has steadily built a client base including many top corporations like T-Mobile, Administaff and Prime Financial.
Especially attractive to meeting planners are the unique personalized photos albums or memory books that Five Star Memories creates. But planners also wanted to allow their guests to be able to create their own books should they choose. To meet this demand, Five Star Memories has now released this capability via their new Web site.
Memory books include professional photos, descriptive details and candid snapshots that capture unforgettable moments of incentive trips. Details can include: who attended the incentive event; pictures from activities and information meeting planners and guests would like to remember about the trip venue, events and activities, such as their individual room number at the resort.
"For all the work put into an event like an incentive trip, there is often not much to show for it afterward," says Matt. "This is because it takes tedious time and effort to create a really cool memory book. You have to collect all the photos, graphics, logos and other details; then review and select the most appropriate; and finally organize these into a book. Moreover after all this effort, the book is usually only meaningful to the person organizing it. Using collaboration and having Five Star Memories statistically monitor the process, allows the meeting planner and guests to easily create exceptional memory books that share the story of the important event."
For more information on Five Star Memories contact Matt Ryan at 303-594-0287 or visit http://www.FiveStarMemories.com .
http://www.fivestarmemories.com was founded in 2004. The company is headquartered in Denver, Colorado, and has an office in Florida. The company creates unique personalized photo albums for top producer events for clients like T-Mobile, Thomson Reuters and Administaff.
Contact:
Matt Ryan
303-594-0287
###