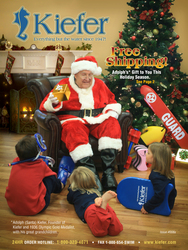 I've made it my commitment to offer the most extensive and highest-quality swimming products for any type of swimmer - from competitive to recreational, to beginner. This offer is Kiefer's way to give back to our customers
Zion, IL (Vocus) December 4, 2008
Adolph Kiefer, who won Olympic gold in the 100m Backstroke event at the 1936 Games, beams from the cover of the 2008 Adolph Kiefer & Associates Holiday Catalog, dressed as the famously jolly elf, Santa Claus. The 90-years-young man is still enthusiastically active in the company he founded and felt the Santa theme was a fitting tie-in with the free-shipping offer extended to Kiefer's catalog and online shoppers.
"I've made it my commitment to offer the most extensive and highest-quality swimming products for any type of swimmer - from competitive to recreational, to beginner. This offer is Kiefer's way to give back to our customers," said Adolph.
The holiday free-shipping promotion, available for the rest of 2008, originated with purchases on Kiefer's swimwear and swim equipment website, http://www.Kiefer.com. Last year, Kiefer decided to extend the promotion to its Holiday Catalog and saw significant response. "Due to the success of that promotion, we are doing it again this year," said Robin Kiefer, Vice President of Marketing.
About Adolph Kiefer & Associates:
Adolph Kiefer & Associates was founded by Olympic swimmer Adolph Kiefer in 1947. As the official aquatics supplier to the 1948 U.S. Olympic Swim Team, Kiefer's company introduced the nylon swimsuit as a lightweight alternative to wool and cotton suits and cost alternative to the silk suits used at the time. The 1948 Olympic Games debut launched the revolutionary nylon Kiefer suit to create a competitive swimming standard. Mr. Kiefer continues to dedicate his life to helping swimmers of all ages and abilities pursue dreams of swimming glory. The company sponsors a full calendar of competitive swimming events and is a top competitive swim team supplier. For more about Adolph Kiefer & Associates, visit http://www.Kiefer.com.
###