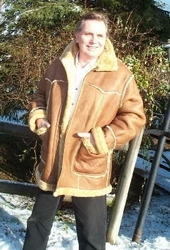 If you buy a coat from us, you won't have to take it to China if it needs repairs
Reading, PA (PRWEB) December 4, 2008
Sickafus Sheepskins announces its 42nd year manufacturing and selling Sheepskin Outerwear. In a time when more and more products are being out-sourced to foreign countries, there's a little slice of Americana along Route 78, Exit 19, in rural Pennsylvania full of American-made sheepskin coats, hats, boots, and other warm and beautiful wooly items that you immediately imagine under the Christmas tree. Country music fills the cozy building, and photos line the walls of Garth Brooks, George Jones, Johnny Cash, Donald Trump, Willie Nelson, all smiling next to a tall man in a cowboy hat.
The place is Pat Garrett's Sheepskin Outlet, a factory-outlet for Sickafus Sheepskins that manufactures custom sheepskin coats and full line of accessories like hats, gloves, slippers, and seat covers. And the fellow in the cowboy hat, country recording artist, Pat Garrett.
Garrett, who often travels with his five-piece band, has been on Polygram Records, has had six nationally Billboard-charted records, and is a prolific songwriter, whose had songs covered by artists as diverse as polka king Jimmy Sturr, comedian Charlie Prose, Grammy award-winning songwriter Hoyt Axton, Tommy Cash, and just this year, the UK's punk rock group the Arctic Monkeys.
But when not in Nashville, or working on a song, Garrett can be found at his sheepskin outlet talking to customers, taking internet orders, on the phone, or in the factory. He likes to stay busy overseeing all facets of the business including buying skins, and cutting and sewing of coats, slippers and other products (something at which Garrett himself is proficient).
The business begin as a tiny, family-owned gas station located outside the little town of Strausstown, PA. Garrett stumbled into the sheepskin business on a frosty morning. Having been persuaded to carry a few sheepskins in the station, he was out freezing in the snow, changing a tire, while the owner of the car was inside the station keeping warm. She noticed the sheepskins and ending up buying the whole pile. "I charged her $1.25 for changing the tire," laughs Garrett, "and $5.00 for the skins. A light bulb suddenly went on over my head, that selling sheepskin would be a lot easier than changing tires and painting cars." Now with the Internet Pat Garrett's sheepskin products are sold worldwide.
Garrett takes pride in the fact that his coats are made in the USA. "If you buy a coat from us, you won't have to take it to China if it needs repairs," he quips. He also boasts that his genuine shearling coats are priced lower than his competitors' coats, featuring Spanish Marino shearling as well as high quality domestic sheepskins. "There is nothing like real sheepskin to keep you warm, or sooth the aches of a person who is bedridden or in a wheelchair. It's a fact, real sheepskin prevents bed and rub sores," says Garrett. "People from all over the US stop in because we're right off Interstate 78, and they often say they can't believe how reasonably priced the hand-made sheepskin slippers and other goods are." Garrett's sheepskin outlet is also popular with motorcycle enthusiasts, carrying a nice line of leather biker jackets, chaps , vests as well as sheepskin motorcycle seat covers. His products have been featured in publications and national media outlets including Playboy Magazine and Fox News.
Two months ago Garrett found himself again thrust into the national spotlight with his self-penned song "Moose Shootin' Mama" written about then vice-presidential hopeful Sarah Palin. He received an email from the Governor's office in Alaska requesting to use his song in the GOP campaign, and was asked to perform at rallies across the nation. The song can be found at http://www.patgarrett.com and and is also available on iTunes . While the song's popularity faded with Republican hopes of the presidency, Garrett scored a record deal in the process with Nashville's Lofton Creek Records, and is currently at work on his next project.
For more information, visit http://www.sickafus.com or http://www.patgarrett.com.
###