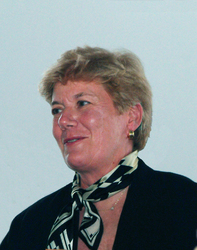 We are enormously proud to have been a part of her career, and know how richly she deserves this honor.
New York, NY (PRWEB) December 4, 2008
In recognition of her lifetime of achievement, the Association of Educational Publishers inducted Martha (Marty) Smith, former President of Pearson' s Curriculum Group, into its Hall of Fame today in a ceremony at the Waldorf Astoria Hotel.
The Hall of Fame recognizes extraordinary individual achievement, professional accomplishments, and a lifetime commitment to educational publishing. Honorees represent those who have made an exceptional impact on the community over the span of their tenure that will continue influencing the next generation of publishers.
A woman named Marty was destined to stand out in the crowd! Over a career spanning 35 years, Marty Smith, a former middle school and high school teacher, built an illustrious track record in education, leading the Pearson School business to its number one position in the world. Her accomplishments included the creation of one of the first technology product groups in the industry, anticipating by many years the demand for digital products; and developing a publishing strategy which set the trajectory for Pearson's market leadership.
"Marty played a big role in changing the face of educational publishing and of Pearson. She influenced how teachers teach and students learn across the country, and she reminded us with her attitude toward her work what a privilege it was to wake up every day thinking you might be teaching a child to read," said Pearson Chief Executive Marjorie Scardino. "We are enormously proud to have been a part of her career, and know how richly she deserves this honor."
"We congratulate Marty on this incredibly well deserved recognition. Inspirational leadership, innovation, and a fervent commitment to our country's teachers and students are the hallmarks of her illustrious career," said Charlene Gaynor, CEO of the Association of Educational Publishers. She added, "Marty is indeed a role model for our industry in a time when role models are so needed."
The Class of 2008 includes Frank and William Sadlier Dinger, Chairman of the Board and President, respectively, of William H. Sadlier, Inc
About Marty Smith
From her early days as a middle school and high school teacher, throughout over thirty years in educational publishing, Martha "Marty" Smith, to this day, continues to be steadfastly focused on one goal - the achievement of the students and teachers we all serve.
Marty has built up an illustrious track record as a leader in educational publishing -creating award-winning textbooks, innovative technology products, custom solutions for school districts, and professional development support for teachers and administrators. Her passion for excellence was a driving force in Pearson's educational leadership, as was her passion for finding and mentoring the best talent in the industry.
Marty began her publishing career at Scott Foresman in 1973. She moved to Prentice Hall in 1986, and from 1992 to 1997 Marty served as Vice President of Product Development and General Manager of Prentice Hall School, creating best-selling programs for schools in the U.S. - many of which have since made their way around the world.
In 1997, Marty was named President of the Secondary Education publisher Prentice Hall by Pearson Education Chief Executive Peter Jovanovich. She rose to President of Pearson's Curriculum Group, and it was under her leadership that Pearson became the premier school publisher in the U.S.
About the AEP
The Educational Press Association of America was founded in 1895 by a small group of editors to exchange information and to promote open expression of educational opinion. For more than 100 years, it existed as a university-supported organization, most recently on the campus of Rowan University in Glassboro, N.J. Today, the organization, renamed The Association of Educational Publishers, is supported by nearly 400 print and digital publishers of all sizes and in all media. Now self-sustaining and in headquarters of its own, the Association has expanded its programs to provide information, training, and outreach necessary to the development of quality educational materials. AEP facilitates communication among key interest groups such as educators, policy makers, educational foundations and associations, business and the education media. AEP continues to increase public awareness of the role of supplemental learning resources in successful teaching and learning.
About Pearson
Pearson (NYSE:PSO), the global leader in education and education technology, reaches and engages today's digital natives with effective and personalized learning, as well as dedicated professional development for their teachers. This commitment is demonstrated in the company's investment in innovative print and digital education materials for preK through college, student information systems and learning management systems, teacher professional development, career certification programs, and testing and assessment products that set the standard for the industry. The company's respected brands include Scott Foresman, Prentice Hall, Addison Wesley, Benjamin Cummings, PEMSolutions, Stanford 10, SuccessNet, MyLabs, PowerSchool, SuccessMaker, and many others. Pearson's comprehensive offerings help inform targeted instruction and intervention so that success is within reach of every student at every level of education. Pearson's commitment to education for all is supported by the global philanthropic initiatives of the Pearson Foundation. Pearson's other primary businesses include the Financial Times Group and the Penguin Group. For more information, go to http://www.pearson.com http://www.pearson.com.
Contact: Kate Miller - 1.800.754.8489
###