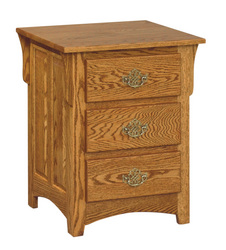 (PRWEB) December 11, 2008
Today Amish Furniture Products is proud to announce the opening of its on-line store. Working with the highly-skilled Amish crafters in Northern Indiana, they are dedicated to providing the highest quality furniture, the best service and the most competitive prices for their customers. Whether a dining room table, a night stand, a cabinet, a chest of drawers, customers will find furniture to match their budget and their lifestyle.
"We are very proud to offer a showcase for the fine furniture design and construction work that is a hallmark of Amish furniture," said Jared Ballou, spokesperson for Amish Furniture Products. "This is some of the most handsome furniture money on the market. Each piece adds distinction to a room and will be sure to be kept in families as an heirloom for generations."
Because Amish Furniture Products works directly with furniture crafters, they are able to offer a dazzling array of furniture styles and wood types. From Mission style to Old Classic Sleigh or Hoosier Heritage, their focus is offering custom orders of all sizes and wood types including: Oak, Maple, Cherry, Hickory, and Quarter Sawn Oak. The site has over 500 products already on-line and their selection is continuing to grow.
A custom furniture service is among Amish Furniture Products most special offerings. "Because we work with many crafters who are willing to handcraft custom pieces to order, Specify size, style, wood, finish and accent hardware and our skilled artisans will make your particular vision take shape," said Ballou.
Visit http://www.amishfurnitureproducts.com to view their selection of products and competitive prices. Whether looking for a dining room table or a bedroom night stand, shoppers will find just what they need.
###