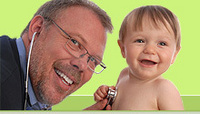 This isn't a way of eating I could recommend to anybody else because it's so far off the beaten food grid
Danville, CA (PRWEB) December 5, 2008
If breeding animals can be certified organic by the Department of Agriculture in three years, mused pediatrician and author Dr. Alan Greene, why not people?
In an article this week in The New York Times (For Three Years, Every Bite Organic), reporter Tara Parker-Pope called Dr. Greene's three-year journey to eat only organic foods "a fascinating experiment." Dr. Greene, the author of Raising Baby Green: The Earth-Friendly Guide to Pregnancy, Childbirth and Baby Care, hit the third anniversary in October, managing to stick to his eating regimen despite the extensive travel and eating out that his speaking career demands.
"My organic journey began in a cow pasture, believe it or not," Dr. Greene wrote on his award-winning website, DrGreene.com. "I was walking on a diary farm in Vermont, listening to someone speak about the dramatic improvement in health for a herd of cows when it transitions from being a conventional herd to an organic one. The speaker made an offhand remark about how impractical it is for someone today to be 100 percent organic."
At home, Dr. Greene finds eating organic relatively easy, he said. Traditional supermarkets now carry well-stocked sections of organic produce, meats and other products. When he was on the road, things got a little more complicated. He managed by planning ahead when he was going out to eat and by discovering products like organic backpacking food that he could travel with.
"This isn't a way of eating I could recommend to anybody else because it's so far off the beaten food grid," Dr. Greene told The New York Times. "It was much more challenging than I thought it would be, and I thought it would be tough. There were definitely days where there was nothing I could find that was organic."
Because he recognized both the importance of making organic choices as well as the challenges of staying within the grocery budget, Dr. Greene created a list of the 10 most important organic choices. Dr. Greene said his Organic Prescription helps people get a good idea of how to make the best choices for themselves and the planet. The top three switches he advocates are milk, potatoes and peanut butter.
About Dr. Alan Greene
Called the "Al Gore of pediatrics" by BabyTalk magazine, Dr. Greene is a clinical professor of pediatrics at Packard Children's Hospital at Stanford University and provides green parenting information on his website, DrGreene.com. Founded in 1995, the site reaches more than a million parents every month. He is also the author of From First Kicks to First Steps: Nurturing Your Baby's Development from Pregnancy Through the First Year of Life (McGraw-Hill, 2004), The Parent's Complete Guide to Ear Infections (People's Medical Society, 1997), and a co-author of The A.D.A.M. Illustrated Family Health Guide (A.D.A.M., Inc., 2004).
Dr. Greene appears frequently on TV, radio, websites, and in newspapers and magazines around the world, including such venues as the TODAY Show, Good Morning America, Fox and Friends, NPR, The New York Times, the Wall Street Journal, USA Today, Time Magazine, Parade, Parenting, Parent, Child, Baby Talk, Working Mother, Real Simple, Better Homes & Gardens, and the Reader's Digest.
###