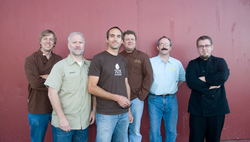 San Francisco, CA (PRWEB) December 6, 2008
On one of the piers at San Francisco's Fort Mason during Slow Food Nation, five of the nation's leading craft chocolate makers conspired to make the chocolate world a better place. The result was the creation of the Craft Chocolate Makers of America, whose singular purpose is to bring craft chocolate of excellent quality to Americans as an affordable pleasure.
The five chocolate makers founded the guild as a way to coordinate with each other on issues such as cocoa supply, chocolate quality, technical issues, export, and to promote the use of craft chocolate making methods as a means to create fine quality chocolate for every American. While the companies compete on the national market, they are also friends who follow their passion for chocolate and believe that craft chocolate making is the best way to create better quality chocolate and to keep cocoa a long-term viable crop.
The founding members of Craft Chocolate Makers of America are Art Pollard of Amano Artisan Chocolate, Steve Devries of De Vries Chocolate, Alan McClure of Patric Chocolate, Alex Whitmore of Taza Chocolate, and Shawn Askinosie of Askinosie Chocolate. Each of these small-batch, artisan chocolate makers produces his own chocolate directly from the cocoa bean--the cooking equivalent of making it from "scratch." This time-consuming and expensive process requires sourcing quality cocoa beans, forging relationships with small farmers, securing and designing special equipment, and possessing an unfailing passion for chocolate.
Creating chocolate with carefully chosen ingredients in small batches, these renegade chocolate makers are able to make higher quality chocolate than that created by the large, industrial chocolate makers in the US and abroad. This artisan chocolate-making process also creates American jobs that cannot be exported, which stands in contrast to many industrial chocolate companies that have outsourced their production to other countries.
The new organization is working together with plans for events, education and awareness about their craft and the chocolate they so painstakingly produce. The newly launched website is http://www.craftchocolatemakers.org.
Who is eligible for membership: Chocolate makers making chocolate using between 2 and 200 MT of cocoa beans per year, chocolate makers with less than 25% of the company owned by non-craft chocolate making companies, and those who make bean-to-bar chocolate in one facility using traditional techniques.
About Taza Chocolate
Taza was founded in 2006 by Alex Whitmore and Larry Slotnick. Whitmore had just returned from a stint in Mexico, where he learned how traditional chocolate is made. In Oaxaca, Mexico molineros (millers) roast and mill organic, farm-grown cacao beans in small batches using traditional stone grinders called molinos. They also eat five times as much chocolate as Americans do. (Maybe because their chocolate tastes so good.) After his trip, Alex set out to bring a few molinos back to Somerville, Mass. to craft a truly unique and truly American chocolate. He joined forces with Slotnick, who had just finished several years of helping grow Zipcar into a real movement. The two founders then created a variety of minimally processed, American-style chocolate that preserves the true flavor of the cacao bean. To learn more about Taza, visit http://www.tazachocolate.com.
About De Vries Chocolate
After buying his first cacao and making a crude chocolate in 1999, Steve De Vries spent five years--the last two full-time--traveling and studying the history and traditions of chocolate. After visiting more than a dozen factories in Europe and the Americas and numerous cocoa plantations in Costa Rica, Venezuela, and Mexico, he started De Vries Chocolate using "100 years behind the times" as a tagline and guiding principle. At De Vries, the chocolate making begins on the plantation with close personal involvement in the fermentation and the slow sun-drying of the cacao to maximize the development of positive flavors and aromas. In the factory, after a long, low-temperature roast, the beans are processed on "classic" granite chocolate machinery, including over three days in the original type of conch invented by Rudolph Lindt in 1879. Finally the chocolate is aged in blocks for at least three months. To learn more about De Vries, go to http://www.devrieschocolate.com.
About Patric Chocolate
After a life-long love of food and a year living in France led to a passion for fine chocolate that could no longer be contained, Alan McClure decided to start a bean-to-bar chocolate company in 2006. In between cacao sourcing trips to Central and South America, McClure designed his own chocolate-making facility and built several types of small-batch chocolate equipment. In January 2007, Patric Chocolate opened its doors. Since that time, McClure has released two single-origin dark chocolate bars, with other fine chocolate products on their way. To learn more about Patric Chocolate, go to http://www.patric-chocolate.com
About Askinosie Chocolate
Askinosie is a small-batch chocolate manufacturer located in Springfield, MO, sourcing 100% of its beans directly from the farmers. Founder and chocolate maker Shawn Askinosie travels to regions of Mexico and Ecuador to work directly with the farmers and source cocoa beans for his chocolate. This allows the chocolate to be traced to the source and labeled Authentic Single Origin Chocolate. It also enables the company to profit share with the farmers, giving them a Stake In the Outcome™. The Askinosie mission is to serve its farmers, its neighborhood, its customers and each other--sharing the Askinosie Chocolate Experience by leaving the world a better place than they found it. To learn more about Askinosie Chocolate, go to http://www.askinosie.com.
About Amano Artisan Chocolate
Art Pollard decided that there had to be better chocolate than what was available in the U.S. So began his quest for the "ultimate chocolate." After much research and experimentation, Art developed a process that incorporated both modern and ancient chocolate-making techniques. When the chocolate began getting rave reviews from local chefs, Art's business partner, Clark Goble, suggested that Art make his chocolate available commercially. Art continued to hone his skills by studying chocolate manufacturing in Europe and traveling throughout Mexico. Then, in 2006, when Art felt his chocolate was comparable to the very best European chocolate, he started Amano Artisan Chocolate. For more information, visit http://www.amanochocolate.com
Photos available upon request.
###