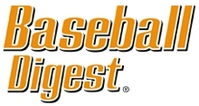 I grew up reading Baseball Digest, and joining its ranks is a lifelong dream realized
New York, NY (PRWEB) December 8, 2008
Baseball Digest, standing alone as the oldest, continuously published baseball magazine in the United States, announced today that it will launch BaseballDigest.com in time for the the 2009 baseball season. Norman Jacobs, the Publisher of Baseball Digest since 1969, has chosen Mark Healey as Baseball Digest's online editor, and his company, Gotham Sports Media, to develop the website, http://www.BaseballDigest.com.
"Bringing Baseball Digest to the Internet is an exciting new chapter in the history of this great magazine," Jacobs said. "I am equally thrilled to have Mark Healey directing this effort for us, I share his enthusiasm for this project and am confident in his ability to introduce Baseball Digest to a whole new audience."
Healey, who founded Gotham Sports Media, LLC in April of 2005, has been Executive Editor of Gotham Baseball Magazine since its inception. Prior to creating his company, Healey worked at Associated Press, specifically AP Sports, from 1998-2006.
"I grew up reading Baseball Digest, and joining its ranks is a lifelong dream realized," Healey said. "Our development team, headed by Associate Editors Paul Greco and Joe Janish, will ensure that baseball fans of all ages will make BaseballDigest.com their number one source for baseball news."
The new site, scheduled to launch on March 1, 2009, will not only be the legendary magazine's online showpiece, but will also offer real-time statistics, Fantasy Baseball advice, and historical perspective from some of the best baseball writers in the business. With interactive forums and pages for every team in baseball, BaseballDigest.com will be a one-stop baseball source for news, trade rumors and features about the Grand Old Game.
About Baseball Digest:
Baseball Digest Magazine was established in 1942, making it the longest-running active baseball magazine. It provides captivating insights on major league baseball history and on current stars -- from one-on-one interviews and special features to exclusive statistics as well as complete rosters and schedules throughout the season. Published eight times a year -- with National and American League schedules, directories and pre-season rosters -- it is dedicated solely to America's Pastime.
About Gotham Sports Media:
Gotham Sports Media, founded in 2005, owns and operates the Gotham Sports Media Network, a collection of award-winning web sites that boast one of the largest audiences of any independent New York sports media outlet. For more information, visit Gotham Sports Media online at http://www.gothamsportsmedia.com.
# # #