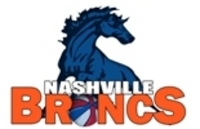 The Nashville Broncs game's offer more than just the game
Nashville, TN (PRWEB) December 7, 2008
The Nashville Broncs will host the Mississippi Blues on Friday, December 12th. Tip-off is scheduled for 7:30 with the doors opening at 6:00 pm.
"The Nashville Broncs game's offer more than just the game," says Jeremy Cook, Public Relations Manager for the Broncs. "We have something for everyone. There is a kid's zone off one side of the baseline with inflatable basketball goals for kids to shoot on. Just off the other baseline is a bar area with tables for comfortable seating while you enjoy your drink. There is plenty of additional entertainment as we have music artists singing during pre-game and half time."
Special celebrity guest's have included: Albert Haynesworth, Diana DeGarmo, Mindy McCready, Ron Mercer, Nappy Roots, and various other singers. Rap and R&B artist Crime Mobb will be performing for the December 12th game.
"The ABA (American Basketball Association) offers a more fast-paced, family friendly, and higher scoring game with only having a 24 second shot clock," says Scott Lumley owner of the Nashville Broncs. "The 3D rule offers more points on the scoreboard."
The 3D light comes on when a team turns the ball over in the backcourt. Once the 3D light is on any made basket adds an additional point to the team that scores. The light is not turned off until the ball goes back to the other team.
The Nashville Broncs are ranked No. 1 on The American Basketball Association Power Rankings and are averaging over 114 points per game.
For tickets please visit http://www.nashvillebroncs.com
CONTACT INFO:
Nashville Broncs
Jeremy Cooke
315 Union St.
Nashville, TN, 37201
Phone: 615-823-1086
Fax: 615-747-5555
jcooke@nashvillebroncs.com
###