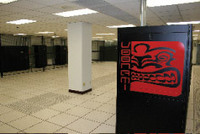 These new data centers will be part of our broader, adaptive computing eco-system with the required power capacity delivered in an green-friendly environment with unlimited configuration flexibility and on-demand services that corporations demand today
Orem, UT (PRWEB) December 9, 2008
Voonami, Inc., a leading provider of outsourced IT infrastructure and data center solutions, announced today the opening of their first of several data centers at the Canyon Park Technology Center in Orem, UT. Voonami also announced two new adaptive computing data centers to be built in Sandy, UT and in Utah County. Each new data center will house up to 100,000 square feet with power capacity of 300 watts per square foot.
"These new data centers will be part of our broader, adaptive computing eco-system with the required power capacity delivered in an green-friendly environment with unlimited configuration flexibility and on-demand services that corporations demand today", stated Ralph Yarro, Chairman and CEO of Voonami.
"Our hope is to be the leader in next generation computing, including platform as a service (PaaS), high performance computing (HPC), efficient power management and monitoring, disaster recovery, virtualization and customizable dynamic capacity", said Ben Bush, President of Voonami. "Our infrastructure will enable Voonami to offer services on the Voonami Trusted Cloud (VTC), the perfect marriage of public and private clouds."
Voonami will host an Open House at their new Canyon Park facility on December 10th from 11:00 a.m. to 2:00 p.m. The public is invited to attend. "We look forward to showcasing our facilities and service offerings at our Canyon Park location, and sharing with our current and future customers the next generation data centers that will come online next year in Sandy, UT and in Utah County", said Ben Bush, President of Voonami.
# # #