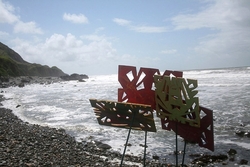 New York, NY (PRWEB) December 6, 2008
Monte-Carlo, Monaco (PRWEB) December 6, 2008 -- The International Jury of the 3rd International Film Festival of Monaco has awarded Angel Orensanz its Award for Surrealistic and Non Violent Art for his film "The Final Score".
"The Final Score" is a short movie filmed by sculptor and filmmaker Angel Orensanz in the Western coast of Wales (Great Britain) during the month of July of 2007. The project was carried with script, direction and photography by Angel Orensanz and with the technical support of the staff from the Museum of Modern Art of Wales and residents of the city of Mcynlleth (Wales). In his movie, Orensanz re-interprets with his sculpture sequences of Ingmar Bergman's "The Seventh Seal." Orensanz was in Wales for the opening of his exhibition "Landscape Bones" at the Moma Wales (June-July, 2007) when he discovered the rugged coastline of Wales at Machynlleth. He saw the resemblance between the coast of Machynlleth and the coastline of Hovs Hallar in North-Western Scania (Sweden) the locale where Ingmar Bergman shot "The Seventh Seal" in 1956. It happens that on July 30th 2007, the day Orensanz finished his shooting, Ingmar Bergman passed away.
The award will be handed to Angel Orensanz tomorrow, Saturday, during a gala ceremony at the Princess Grace Theatre in Monte-Carlo. And every year from now on, the Surrealistic Non Violence Film Award will carry the name of Angel Orensanz Award. The jury cites in its decision the long commitment of artist Angel Orensanz to pacifism, pacific war resolutions and human rights contributions throughout the world. It makes special reference to his contributions at the recent 60th Anniversary of the Universal Declaration of the Human Rights in Paris with his art at the Place de la Ville and the Unesco headquarters.
The postproduction was completed by Juanli Carrion and Jaume Marco at the Media Studio of the Angel Orensanz Foundation in New York.
# # #