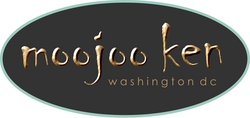 Washington, DC (Vocus) December 8, 2008
After a very busy year making its way onto many sexy feet, the Foggy Bottom pump anticipates the reception its updated handbag and new scarf will receive. In the spirit of change, the revised all leather Foggy Bottom handbag will have a much softer feel and will prove just as flexible and practical as its older sister. Rounding out the collection is a 100% silk scarf of supple elegance in rich 14 momme twill.
For a night at the opera or a concert, moojoo ken's Foggy Bottom classic black pump with its bright blue and green scratching design integrates the adored emblem. Swathed in the same leather design, the handbag is now slightly smaller and softer. The drawstrings on each side give the user the flexibility to tighten and reduce the size of the bag. The strings may also be tied off in many different and clever ways to create a myriad of effects. "Change is Good!" is boldly embossed across the bottom of the latest handbag. A great statement for the times in which we live. Moojoo ken offers this uplifting message to the fashion maven who in turn wants to offer an optimistic message of hope whether it is concerning economics, politics or style.
Something for the feet, something for the arm, so how about something for the neck? Adding a Foggy Bottom scarf to the collection seemed a no-brainer. With the same bold, colorful design the 100% silk twill square (36 inches) will offer the wearer a wonderfully versatile accessory to twist, tie and just have plain fun with. A great collection just got better!
Well-dressed women everywhere will want to add this dramatic yet elegant shoe, scarf and handbag set to their wardrobe. This is the must-have for spring 2009.
About Moojoo Ken
Moojoo Ken means "unconditional" in Japanese, as the owners have drawn on their extensive travels to inspire their collection. The DC Fashion Design Label serves up a colorful, eclectic line that features a childhood dream emblem. The collection of unique handbags, shoes, and accessories take their names from historic and exciting Washington, DC neighborhoods, streets and locales. Washington, DC might not be known for its fashion, but moojoo ken wants to change that perception.
###