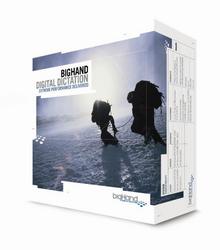 London, UK (PRWEB) December 9, 2008
Today independent chartered accountants Princecroft Willis has completed its implementation of the award-winning BigHand Digital Dictation workflow system, and proclaimed an immediate impact on efficiency during the 2008 summer holiday season. The firm, which has 16 partners and over 100 team members, has replaced the use of analogue tapes with BigHand software, providing a shared document production workflow across its two offices leading to better team working, faster document turnaround and improved confidentiality.
Originally operating from three separate sites with just the use of analogue tapes, and without the opportunity to share across offices, their document production options were limited. BigHand enabled its client to eradicate analogue tape backlogs and integrate three offices into two sites. The work sharing capability has allowed documents to be produced much faster, and without delays in the event of absence.
James Robinson, IT Partner at Princecroft Willis, acknowledged the importance of BigHand at a crucial time in the firm's development:
"From day one we noticed the efficiency benefits; BigHand software had an immediate impact. Moving from three offices to two sites, and at an extremely hectic time in August with so many of our team away on holiday, BigHand supported this perfectly, with the option to share work amongst secretaries - regardless of location - proving a real benefit.
Secretaries have found BigHand to be simple to use, and love the flexibility of all the controls. More impressively workloads can be automatically shared however you want, resulting in a quicker turnaround of work both internally and externally.
In addition, due to a separate side of our business which requires documents to remain confidential, BigHand were able to provide us with a 100% secure area - meaning not only are we able to record and save highly confidential files but we now also have greater control over much of the sensitive work that is being produced."
Andrew Alder Managing Partner commented:
"BigHand has allowed me to increase my use of remote working, saving time and resources, BigHand has given me greater freedom and flexibility!''
About BigHand
BigHand is based out of Chicago, London, Sydney and Toronto. BigHand is the leading digital dictation vendor in the global professional services sector. BigHand3 was awarded 'Best of Breed System of the Year' at the Legal Technology Awards for 2008, and BigHand Mobile (BlackBerry Edition) was voted 'Mobile Product of the Year' at the CNET Business Technology Awards 2008. BigHand has also been nominated in the Sixth Annual Law Technology News (LTN) Awards for 2009 as 'Dictation System of the Year' and 'Mobile Tool of the Year'. Further information is available at http://www.bighand.com
###