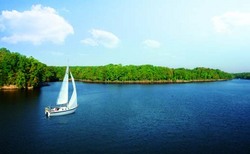 The Developers decided to build the clubhouse in a 'green' manner in order to be friendly to the beautiful surrounding environment we enjoy, while building a super energy efficient structure that provides minimal cost burden to the Homeowners Association
Charlotte, NC (PRWEB) December 11, 2008
If you're in search of a new home near Charlotte, look no further than the handsome Handsmill lakefront community on Lake Wylie. A newly 'green' waterfront club house is now under construction, Handsmill's water facilities will offer the ultimate in lakeside living. The first Leadership in Energy and Environmental Design (LEED) certification clubhouse in the Southeaster United States, David Simonini, Wingfoot Building Group master builder, says that the new clubhouse is helping the community to go 'green' in order to help maintain the Lake on which the residents live.
"The Developers decided to build the clubhouse in a 'green' manner in order to be friendly to the beautiful surrounding environment we enjoy, while building a super energy efficient structure that provides minimal cost burden to the Homeowners Association," says Simonini, whose building company is constructing the clubhouse.
The fully equipped clubhouse features waterfront amenities, including a junior Olympic swimming pool, kids' splash pool, kids' play area, a large gathering room, fitness center, outdoor patio bar and grill area, event Lawn, a sandy beach volleyball court, and much more.
JR Pettus, managing partner for Handsmill Enterprises, LLC, contends that one of the reasons that Handsmill is so special and unique is because of its high quality homes and attributes in addition to the water front location.
"Not everyone can afford one of the waterfront dockable lots, but we wanted everyone who lives in Handsmill to be able to enjoy beautiful Lake Wylie, SC," he says.
And avid boaters are in luck; in 2010, Handsmill will open a private yacht club with more than 60 boat slips. Because dockable waterfront property is at such a high demand around the Charlotte area, the large waterfront lots at Handsmill are in constant request. However, Handsmill will be building a private and secure storage area within the community especially for water vehicles and RVs in order to keep boats out of the driveways.
Even if you're not a boat enthusiast, Handsmill is still the place to be. For homeowners near Charlotte, Handsmill is quickly becoming a highly sought after community in which to raise a family. Community spokesperson Tracy Soussi Community Specialist In Charge of the marketing of Handsmill says that "residents love Handsmill's proximity to Charlotte as well as the natural beauty and family-friends neighborhoods".
"The people who have bought in Handsmill tell us that it is the beautiful waterfront property so near to Charlotte that attracted them. They love the schools, the super low property taxes, the fact that everyone that owns in Handsmill can enjoy the water," she says. "Our property owners feel like they can escape the bustle of Charlotte but still enjoy all that the city has to offer."
Whether a boater, nature buff, fitness lover, or all of the above, Handsmill appeals to a variety of individuals and families. Empty nesters and grandparents wanting to be close to their families can also find a place at Handsmill.
To keep up with changing demands, Handsmill will add many new amazing amenities in the near future, including the just completed all natural kids' playground, a dog park, garden plots that tie in with our own Handsmill community farmers market, plus Handsmill features over 30 acres of common space that includes walking trails and picnic areas that are all interconnected throughout the community. It's hard to believe that all of this excellent home value exists so near to Charlotte.
Victor Borga, acclaimed real estate consultant of the International Real Estate Symposium, revealed that Charlotte, NC is the best place in the country for real estate, even in these tough economic times; while quality, gated waterfront communities are in the best position to hold value.
"The beautiful, natural setting of Handsmill on Lake Wylie (http://www.handsmill.com), this close to Charlotte, NC and Rock Hill, SC, is pretty much a safe bet to place your money as well as a great place to build your primary or secondary home," Borga said on a recent visit to Handsmill.
About Handsmill on Lake Wylie
Handsmill on Lake Wylie is a first class lakefront community in Lake Wylie, South Carolina. Located just 30 minutes from downtown Charlotte, North Carolina, Handsmill community claims excellent value in waterfront lots and homes with a high quality public school system, very low property taxes, and future marina facilities.
Wingfoot Land Group is a residential land holding and development company with projects from Charlotte to the Carolinas coast. Wingfoot Building Group (http://www.wingfottbuildinggroup.com) is a strong financially sound custom home builder.
Wingfoot Building Group exclusively builds Luxury Homes By Simonini one of the most decorated homebuilders in the country.
If you think Handsmill might be a community you want to know more about, please visit their website at http://www.handsmill.com or contact them at (704) 714-4600.
Media Contact:
Tracy Soussi
704-714-4600
tracy(at)wingfoot1(dot)com
###