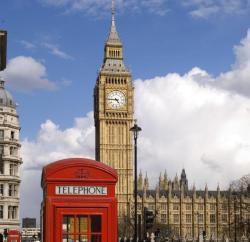 With the strength of the dollar, lower fuel surcharges, and winter airfares down over 40% from summer, Virgin Vacations deals are exceptional
Norwalk, CT (PRWEB) December 9, 2008
Virgin Vacations has just launched an incredible winter sale to the UK. Fly Virgin Atlantic and take advantage of special sale pricing. Plus, with the US Dollar gaining 20% against the Pound, all of London is on sale once you get there. But hurry, because these fabulous sale prices expire on December 22, 2008.
Sale packages include Virgin's 3-night London Fling now priced from $599 with New York departures. Virgin's 6-night London Fling is now from $699 with departures from New York. The UK Fly/Drive was priced from $599 and now has been reduced to $549.
Combine London with another famous European city and save even more.
Virgin's London and Amsterdam Fling is priced from $929, Virgin's London and Brussels Fling is priced from $1019, Virgin's London and Edinburgh Fling is priced from $999, Virgin's London and Paris Fling is priced from $1079, and Virgin's London and Dublin Fling is priced from $1249.
"With the strength of the dollar, lower fuel surcharges, and winter airfares down over 40% from summer, Virgin Vacations deals are exceptional," commented Nigel Osborne, President of Virgin Vacations.
Packages feature round trip airfare, accommodation, daily breakfast, and all hotel taxes and service fees. Mandated fuel surcharges, taxes, and security fees of $140-$185 per person extra. Prices are based on select New York departures. Packages must be booked by December 22nd.
About Virgin Vacations
Virgin Vacations was established in 1994 to provide Virgin Atlantic Airways and Virgin Vacations customers with inclusive vacation packages to London and beyond. Today, we've expanded our reach, as well as our product. We now offer an expanded travel menu that includes more of Europe and new Virgin Atlantic destinations such as India and Hong Kong. More recently, Virgin Vacations added Africa to the list, with the option of visiting Sir Richard's private game reserve Ulusaba. For more information please call 888-937-8474 or visit http://www.virgin-vacations.com.
###