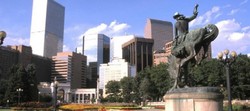 Denver, CO (PRWEB) December 10, 2008
The staff of the AAA Four Diamond award-winning Grand Hyatt Denver Downtown hotel today announces an innovation in weekend getaways with the launch of their Antiquing Package. This environmentally friendly Denver hotel package allows a 10% discount at 44 merchant shops along the city's renowned Antique Row, located on South Broadway, less than five miles from the Grand Hyatt Denver. Additionally, the package provides a 20% discount on food and beverage at the downtown Denver hotel's restaurant, 1876 , the Fireside Cocktail Lounge and through in-room dining.
Antique Row features 199 antique dealers, restaurants and galleries in vintage buildings along an 18-block stretch. Merchants - many of whom have been in business for 30 years or more - offer quality antiques and home furnishings, vintage toys, fine wines, rugs, handcrafted picture frames, tiles, custom lighting and furniture amid dining establishments and even a tea room.
Greg Leonard, general manager of the Grand Hyatt Denver hotel, said: "We understand that antiquing is not only fun and engaging, it is a major 'green' initiative, allowing items such as books and things with unique and personal meaning to find a new life. It's a modern-day treasure hunt and recycling at its finest."
Participating Retailers in this Unique Downtown Denver Hotel Deal
The 44 merchants participating in this exclusive Denver hotel deal are:
Acoustic Piano Sales and Services
An Inviting Place
Antique Alley, LTD
Antique Brokers
Antique Center on Broadway
Antique Exchange
Antique Row Market
Antiques by Corky Schaeffer
Antiques on Broadway
ARC Thrift Store
Artsmyths
Azari Rugs
Birdsall & Co.
Black Tulip Antiques
Brooklyn's Antiques
Capelli Floral
Capital Tea, LLC
Divino
Disarray Consignments
Dry Creek Gold Leaf, Inc.
Finders Keepers
Footprints of Asia
Frontier Gallery
Gallagher Books
GB Fish & Chips
Great Estates Liquidations
Greybrother Antiquarian Prints
Heidelberg Antiques
Home & Again
Jerry's Cameras Clocks and Jewelry
Lucky-Jack's
Manhattan West
Timeless Jewelry, Inc.
Rocky Mountain Coin, Inc.
Shirley's Chapeaus & Vintage Boutique
Somewhere in Time
Spencer House Antiques
Toys of Ted
The Treasured Scarab
Trunk Full of Treasures
Turn of the Century Antiques
Urban Pantry
Victorian Antlers
Warner's Antiques
Watson & Co.
Future Revitalization of Antique Row Shops, Minutes from Downtown Denver
During the coming year, the area in which these shops now reside will see a revitalization. With the widening of South Broadway, a landscaped median with trees, sidewalk planters, park benches and decorative wrought-iron street lamps will be added, creating a new feel and making it even more pedestrian-friendly.
Access to Antique Row from the downtown Denver Grand Hyatt is a simple ride on the Light Rail. Those who choose to drive the 4.4-mile distance enjoy free parking.
About Grand Hyatt Denver Downtown Hotel
The Grand Hyatt Denver is located at 17th and Welton Streets in the heart of the Mile High City, one block from the Sixteenth Street Mall. Each spacious downtown Denver hotel accommodation features the Hyatt Grand Bed, flat-screen television sets, large marble-touched baths with oversized showers and massaging showerheads, WiFi and a host of additional comforts.
Reservations for the Antiquing Package may be made by calling 800-233-1234, by visiting the special offers page at granddenver.hyatt.com or by calling a travel planner.
About Global Hyatt Corporation
Global Hyatt Corporation, one of the world's premier hotel companies with properties in 45 countries, provides authentic hospitality to guests through a passionate commitment to personalized service, cultural relevance, and genuine stewardship of the environment. Headquartered in Chicago, the company's affiliates own, operate, manage and franchise Hyatt-branded hotels and resorts under Park Hyatt®, Andaz™, Grand Hyatt®, Hyatt Regency®, Hyatt Resorts™, Hyatt®, Hyatt Place® and Hyatt Summerfield Suites® brands. Hyatt operates 368 hotels worldwide and currently has properties under development on five continents. Global Hyatt Corporation is also the owner of Hyatt Vacation Ownership, Inc., and operator of Hyatt Vacation Club®. From the U.S. and Canada, reservations for any Hyatt hotel worldwide may be obtained by calling 1-800-233-1234 or visiting http://www.hyatt.com.
###