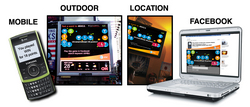 LocaModa has been a thought leader in extending the web to physical locations, fundamentally altering how web and location-centric applications transform and monetize location-based advertising
Cambridge, MA (Vocus) December 9, 2008
LocaModa, Inc., a company connecting brands to audiences through location-centric media, today announced that the U.S. Patent and Trademark Office has issued patent number 7,450,954, "A system and method for providing and managing location-based interactive content." The patent covers the core technology for enabling interactive social and mobile media across physical and virtual locations; this technology underpins the LocaModa platform, which has provided mobile and social interactivity to millions of users in thousands of locations.
"LocaModa has been a thought leader in extending the web to physical locations, fundamentally altering how web and location-centric applications transform and monetize location-based advertising," said Stephen Randall, CEO of LocaModa. "We are committed to continuing the development of technologies that enable users to take control of the media around them and harness the potential of the web everywhere."
About LocaModa LocaModa connects people and places online and off, bringing out-of-home locations to the web and web experiences to locations such as bars, cafes, colleges, public spaces and conferences. LocaModa Inc. is a privately held company, incorporated in Delaware, headquartered in Massachusetts and founded by Stephen Randall, a former EVP/Founder of Symbian. True to its global vision, LocaModa is internationally backed by Dace Ventures in USA, Mahindra Group in India and Sumitomo Corporation of Japan, via its US-based strategic investing arm, PresidioSTX. Additional information on LocaModa can be found at http://www.LocaModa.com.
###