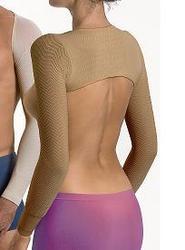 East Brunswick, NJ (PRWEB) December 9, 2008
LegLuxe.com (http://www.legluxe.com ), an online retailer of fine-quality legwear and shapeware, has added a new product designed for women who want a solution to their flabby arm concern.
New Silver Wave Slimming Sleeves arm-shaper is a skin-firming and toning sleeve that combines a breathable, micro-massaging knit with built-in clinical-grade compression for additional support and revitalization to help get rid of flabby arms.
'We listened to consumers who wanted a new way to improve the appearance of saggy arms and upper shoulders. After extensive research and development, we developed Silver Wave Slimming Sleeves, a shapeware solution that gently massages the skin to improve microcirculation and boost lymphatic drainage," said designer Enzo Pinelli, owner and lead designer of Solidea, makers of Silver Wave Slimming Sleeves.
Silver Wave Slimming Sleeves micro-massage feature is made possible with a patented 3D wave knit. The stretchable fabric contracts and expands during movement massaging the skin and breaking up unwanted fats and fluids that lie underneath.
The product's breathable knit also contains anti-microbial silver ions. This makes Silver Wave Slimming Sleeves ideal for layering under tops, dresses and jackets for a sleek and slender silhouette.
The built-in compression of Sliver Wave Slimming Sleeves acts like a second set of muscles -- boosting microcirculation in the vessels of the skin's upper layers, and ridding it of unhealthy fats, toxins and fluids.
Pinelli also notes that Silver Wave Slimming Sleeves are sometimes recommended by doctors as a compression arm sleeve for post arm-liposuction or mastectomy lymphedema. When worn after surgery, the shapewear helps prevent swelling and the accumulation of fluids.
The concept of these arm sleeves is based on the technology of Solidea's widely available anti-cellulite shorts. According to an article in The Italian Plastic Surgery Journal, these shorts have a number of clinically proven benefits including:

Reduces the appearance of cellulite
Takes inches off the hips, thighs and buttocks
Creates a smoother, even skin tone
About LegLuxe.com:
LegLuxe.com (http://www.legluxe.com ) is a leading online retailer of stylish accessories designed to support and revitalize the body. Their motto is fashion accessories for a better you. The company is dedicated to providing a rewarding self-service shopping experience to every shopper and offers free shipping on purchases of $79.95 or more.
###