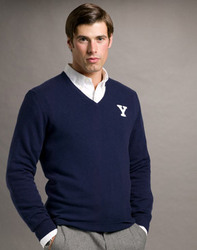 We wanted to create a luxury garment that represents the commitment and dedication of America's great universities…and I feel like we've done that
Brookfield, WI (PRWEB) December 10, 2008
2108 Vintage, LLC is proud to announce the release of their 100% cashmere sweaters inspired by Americas' top universities. Available in three classic designs for men and women, these luxurious garments are sure to the perfect gift for the holiday season.
A great gift for the holidays, 2108 Vintage's line of collegiate cashmere sweaters is a welcomed addition to traditional collegiate apparel. "We wanted to create a luxury garment that represents the commitment and dedication of America's great universities…and I feel like we've done that," said Matt Moss, Director of Marketing at 2108 Vintage. "Our timeless cashmere sweaters can be enjoyed for generations to come and are sure to be a perfect gift for the holidays."
Featuring three distinct styles for each university, the classic V-neck is available for both men and women as well as the traditional crew neck that has been designed to replace the tattered sweatshirt buried in the back of your closet. Each university logo has been carefully applied in a wool felt appliqué in order to maintain the integrity of the university and the quality of the garment.
Officially licensed with 7 universities, 2108 Vintages' cashmere sweaters are now available for $210.00 (women's V-neck) and $230.00 (men's V and unisex crew) for the following schools exclusively at 2108vintage.com.
2108 Vintage Universities
· Cornell University
· Dartmouth College
· West Point Military Academy
· University of Pennsylvania
· University of Washington
· University of Wisconsin
· Yale University
About 2108 Vintage
2108 Vintage, LLC is an inspired cashmere apparel company. Driven by a passion for classic American style and an unwavering sense of campus pride, 2108 Vintage creates the ultimate luxury in collegiate apparel. More information can be found at 2108vintage.com.
###