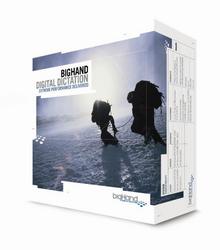 London, UK (PRWEB) December 10, 2008
BigHand, the market leading developer of digital dictation workflow systems for professional services firms, has today announced that insurance association West of England Ship Owners has increased the efficiency of its claim handlers and secretarial support as a result of implementing the BigHand digital dictation system. The instant submission and availability of dictations for transcription has enabled the firm to improve its document turnaround times. In addition, the firm has removed the requirement to purchase expensive tapes and tape dictation equipment.
Previously, using antiquated analogue dictation equipment, tapes containing several dictations would have to be physically handed to secretaries for transcription, causing lengthy delays and backlogs in the document creation process.
BigHand enables workflow to be managed simply and efficiently, with the firm now sharing dictations created by over 30 claim handlers amongst a pool of 10 secretaries. Secretaries are able to view and manage their workloads allowing them to transcribe one dictation at a time rather than trawling through hours of tape to find the most urgent dictation. As a result, the secretarial team is able to work much tighter, getting documentation out the door in the fastest time possible. Since the implementation of BigHand, efficiency and productivity have quantifiably increased across the firm.
Peter Topliss, at West of England Ship Owners comments:
''BigHand enables secretaries to access dictations the second they have been submitted and if already working to capacity, they can simply share dictations with team members. BigHand is simple, easy to use and ensures the timely completion of transcription and fastest possible turnaround of documentation.
If a secretary is on holiday or off sick, instead of tapes piling up on desks or filed in drawers, claim handlers are now able to upload dictations into the BigHand workflow system and a pool secretaries will be able to pick it up straight away.
In addition, claim handlers are able to view the status of their dictations, therefore time previously wasted chasing the progress of tapes is now more efficiently utilised. BigHand has certainly saved the firm unnecessary costs and efficiency levels have substantially improved".
About BigHand
BigHand is based out of Chicago, London, Sydney and Toronto. BigHand is the leading digital dictation vendor in the global professional services sector. BigHand3 was awarded 'Best of Breed System of the Year' at the Legal Technology Awards for 2008, and BigHand Mobile (BlackBerry Edition) was voted 'Mobile Product of the Year' at the CNET Business Technology Awards 2008. BigHand has also been nominated in the Sixth Annual Law Technology News (LTN) Awards for 2009 as 'Dictation System of the Year' and 'Mobile Tool of the Year'. Further information is available at http://www.bighand.com
About West of England Ship Owners:
The West of England is a leading Protection and Indemnity Club providing its global membership with liability insurance and ancillary cover and safeguarding and promoting the interests of ship owners, charterers and operators in many areas of their activity.
###