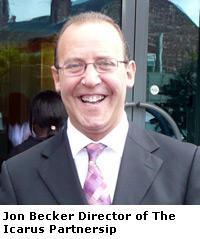 Manchester, UK (PRWEB) December 11, 2008
The Icarus Partnership Ltd recognises the need for greater assistance for UK employees who are currently facing uncertainty in their employment and has just announced the Launch of ACSOL a new product, operating as a unique online toolkit for the job seeker.
ACSOL, which stands for Accelerated Career Search On-Line, helps to speed up, organise and simplify the job search process at the touch of a button. It supports a networking process and searches more than 4500 job sites. In addition, ACSOL writes and customises CV's in appropriate styles that will improve chances of being selected for interview; helps to write professional, relevant and focused cover letters to accompany applications; manages all aspects of the application cycle and includes email reminders; manages positions applied for, meetings and network contact details all in one place and sends email reminders for interviews and deadlines set. This comprehensive service, developed through the company's 20 years experience of career guidance, is a powerful tool and one which could positively impact on the mental attitude and job seeking approach of individuals who find themselves in an unexpected or unfortunate career position.
The current UK employment market is bleak and full of doom and gloom. Regular reports advise unemployment figures are rising and thousands of employees are playing a waiting game, unsure of how much longer they will be able to continue going to their current workplace. The Icarus Partnership Ltd specialises in helping individuals facing such intolerable uncertainty and encourages all to regain the control over their futures in the UK job market by taking a more pro-active approach. Their experienced and qualified career guidance professionals can assist individuals to dramatically increase their chances of finding employment by advising how to be more pro-active in their job search and to make something happen for themselves. For many this is uncomfortable territory and not something that comes naturally, but with guidance important skills can be nurtured and the results can be outstanding.
Networking is regarded as one of the key tools of the trade and the professionals urge job seekers to build on their contacts and utilise this key strength to aid in their job search. The true value of networking should never be underestimated. Jon Becker, Director of the Icarus Partnership comments "One way of being really proactive is to network. Using your network and personal one-to-one meetings helps the job seeker to take a more positive role. Research from a study conducted by the Institute of Chartered Accountants proved that over 60% of job seekers successfully found a new position through networking".
In the current economic climate, no one can afford to be complacent. It is also the case however, that market conditions will result in the job market becoming ever more competitive. Nothing can be left to chance.
###