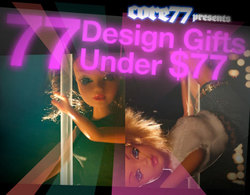 Just as it's true that it's better to give than to receive, the fun we had in choosing the items for this year's list was perhaps the highlight for us
New York, NY (PRWEB) December 10, 2008
Furthering its reputation as the global leader in design news and inspiration, New York-based design network Core77 has just published its annual Holiday Gift Guide, affectionately titled, "77 Design Gifts Under $77 from Core77." This is the third year that the online design hub has published its list -- the most widely linked-to gift list on the Internet.
This year's list represents an amazing range of products -- from high and low-tech, craft, books, and philanthropy, to DIY, fashion, food, utility, and just plain fun. And responding to these tight-budget times, the list features 36 items under the $25 mark, providing a rich selection of extremely affordable yet unique gifts.
In addition, the site is premiering two "Core77 Exclusives" -- items which can only be found through the Core77 website: Shuriken Magnets are a hot-selling item used to pin up reminder notes on metal surfaces. They mimic the Ninja throwing stars, and come 2-to-a-pack in an authentic ninja-styled shuriken box; BottleBob is an incredibly unique item designed to pierce a soda bottle cap, enabling you to magically drink through a straw. It's the perfect item for parties and holiday events.
The list is a combined effort of over a dozen Core77 contributors, and has been in the works for months. "Just as it's true that it's better to give than to receive, the fun we had in choosing the items for this year's list was perhaps the highlight for us," said Allan Chochinov, editor-in-chief of Core77. "We are constantly keeping our eyes open for exciting and unique items, traveling to tradeshows and design festivals. The gift list provides an opportunity to share some of the best finds with readers around the world."
Glen Jackson Taylor, a designer and contributor to the list, adds, "It's always a challenge curating items for the annual gift list, and as a self-professed hard-to-shop-for-person, this year's guide is loaded with unique, inspiring and delightful suggestions. We're conscious that people are looking for meaningful, unexpected gifts right now, and there's a ton here to help them express their point of view."
The web address for Core77's Ultimate Design Gift Guide is: Core77's Ultimate Design Gift Guide
About Core77:
Core77.com is one of the world's most respected and popular design communities. Since 1995, the site has served a devoted global audience from the entire spectrum of the design industry, catering to working designers, design managers, and design students. Core77's influential blog is widely read and cited continually on websites around the world, and its feature articles, interviews, podcasts and community forums provide critical tools for both inspiration and education.
For more information about Core77's Ultimate Gift Guide, or to arrange an interview, contact Allan Chochinov, Editor-in-chief, at 212-965-1998 x.107.
###