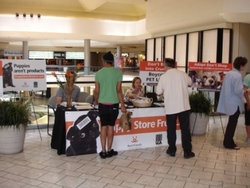 Puppy mills are cruel, inhumane places and the public is becoming wise to where pet shops procure their animals
Los Angeles, CA (Vocus) December 10, 2008
American consumers are becoming more aware of puppy mills these days, which is causing some Los Angeles pet shops to go out of business.
The latest is Pet Love, a Beverly Hills pet retailer that for 15 years has been located in the upscale Beverly Center. This week, the Beverly Center said it will terminate Pet Love's lease sometime in the next few months.
Pet Love's eviction from the Beverly Center could become part of a national trend, according to Best Friends Animal Society, a national animal rescue organization that has been educating Los Angeles residents about puppy mills, mass commercial breeding operations that supply pet shops with inventory.
Because puppy mills flood the market with approximately 400,000 animals each year, it contributes significantly to the plight of overcrowded animal shelters in the United States, where each year approximately five million homeless pets are put down. In Los Angeles shelters alone, approximately 25 percent of dogs are pure-bred animals, many of which end up euthanized.
"Puppy mills are cruel, inhumane places and the public is becoming wise to where pet shops procure their animals," said Elizabeth Oreck, Los Angeles program manager for the national animal rescue organization Best Friends Animal Society. "When you buy from a pet store, chances are you are supporting puppy mills, and the more likely it is that dogs will be euthanized in shelters."
The Pet Love closure is the result of Best Friends Animal Society's "A Puppy-Store-Free LA" campaign, launched last July at a Los Angeles news conference. The campaign includes a four-point program for Los Angeles that includes peaceful protests outside of stores that sell puppies, undercover investigative work, plans to change local ordinances, and rescuing animals from shelters for transport to other communities where they can be adopted.
"This is a direct result of our efforts over the past six months to let people know about the countless sick dogs sold by Pet Love," Oreck said. "Hundreds of Beverly Center patrons and employees have signed our petition expressing their concern about Pet Love's practice of selling sick dogs. Ultimately, this led the Beverly Center to make what we believe is the right decision--to sever their relationship by terminating Pet Love's lease."
Pet Love has sold thousands of dogs to local consumers. Best Friends' investigations proved that dogs were acquired from puppy mills. Pet Love was the subject of a KCBS Los Angeles undercover report that revealed illegal, improper medication on puppies for sale in stores, and has been cited by Los Angeles Animal Control for similar violations.
National Implications
Best Friends' chief executive officer Paul Berry said developments in Los Angeles send a strong message to pet shops across the country.
"Our work here in Los Angeles sends the strongest possible message everywhere that pet shops are supplied by puppy millers," Berry said. "If a pet store can be closed down in the iconic Beverly Center, it can happen anywhere in the country - New York, Chicago, Boston and other large metro areas."
"Puppy mills, sadly, are legal in the United States and because of this, the general population has not been aware of the conditions under which the puppy store animals are bred," Berry said. "We have been involved in many puppy mill rescues where parents of puppies, along with their offspring, are forced to live in cramped cages without socialization and little or no medical care. It has to stop and our campaign, we believe, is making a difference across the country."
Last summer, Best Friends met with owners of Pet Love to propose converting the shop to a business model that rescued animals and put them up for adoption. But Oreck said Best Friends was turned down--and threatened with litigation.
However, the residents of Los Angeles have spoken and the Beverly Center heard them.
"Our goal has never been to put Pet Love out of business," Oreck said. "We just wanted them to stop selling animals that come from puppy mills and other irresponsible breeders. We would happily guide and support them in that endeavor."
Next Steps
A-Puppy-Store-Free L.A. volunteers have also established a regular presence at in the Westside Pavilion to educate the public about Barkworks, another store that obtains their puppies from puppy mills, as well as the independent yet high-profile store, Pets of Bel Air. Best Friends will be expanding into other malls in the coming weeks and will continue to increase peaceful protests until consumer fraud, cruelty and shelter euthanasia associated with the irresponsible breeding and selling of pets in pet stores has ended.
About Best Friends Animal Society
Best Friends Animal Society, one of America's foremost animal rescue organizations, operates the country's largest sanctuary for abused and abandoned animals. On any given day, Best Friends Animal Sanctuary, located in southwestern Utah, is home to approximately 2,000 dogs, cats, horses, rabbits, birds, and other animals. Founded in 1984, Best Friends advances nationwide initiatives by working with shelter and rescue groups around the country. The society also publishes Best Friends magazine, the nation's largest general interest, pet-related magazine with approximately 300,000 subscribers. For more information, visit http://www.bestfriends.org.
For more information contact:
John Polis, 435-817-2980 (cell)
Jim Llewellyn (323) 810-7685, Jackie Lapin (818) 707-1473
###