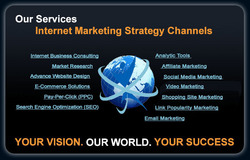 City of Industry, CA (PRWEB) December 10, 2008
Despite news of recession threatening companies, it never hurts to invest on internet marketing services that will help generate company sales in the long run. Today, nearly all businesses are engaged in e-marketing, also known as online marketing or internet marketing. No matter how small, target-specific or local a business is, internet marketing is already an essential part of their campaign to promote their products and services over the web.
To help businesses earn more and generate sales, Cybertegic.com, one of the leading internet marketing consultants company, recently conducted a free internet marketing training seminar intended to aid companies to stay ahead in today's tough economy. Held in Hilton Hotel, San Gabriel, California, the seminar focused on hard hitting internet marketing tactics designed exclusively for businesses who want to learn top internet marketing strategies to grow online sales and outperform competitors.
The session also trained executives and marketers on scalable solutions to overcome traditional challenges of visibility, ranking and growing sales online on internet marketing. Furthermore, the gathering also discussed effective strategies and tips to budget and control internet marketing costs while boosting online profits.
Introducing insights on the world of internet marketing, the seminar offered participants training from real experts on how to expand internet marketing reach by increasing online visibility which generates thousands of free organic leads & web traffic, boosting new sales fast & securing repeat business easily. A special offer also gave attendees free one-on-one business evaluation, keyword market research report as well as competitor industry market analysis report.
Due to the success of the free internet marketing training seminar, Cybertegic is already brewing a future gathering once again for top executives to learn efficient internet marketing services designed to bring in more sales and online visibility for companies in the world of internet marketing. Bring your company to the forefront and witness the growth of your business with the help of Cybertegic, a leading internet marketing consultant company.
About Cybertegic.com
With headquarters in Rowland Heights, CA, Cybertegic is an ecommerce development company that specializes in advanced Internet marketing services and in the development of complex e-commerce stores. The company specializes in all aspects of internet marketing services like search engine optimization service, pay per click advertising service, and email campaign service, and much more.
###