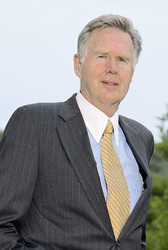 Since the late 1970s, Dehlsen has driven the vision that large-scale wind power generation could be competitive with carbon fuel power sources while mitigating the burdens of carbon fuel emissions on the biosphere
Carpinteria, California (PRWEB) December 10, 2008
Clipper Windpower, Inc. ("Clipper") today announced that in recognition of his decades of accomplishments associated with the advancement of wind energy as a source for clean, secure electricity generation, James G.P. Dehlsen, Founder and Chairman of the Board of Clipper Windpower, was inducted into America's National Environmental Hall of Fame as the "Father of American Wind Energy" during a formal ceremony which took place in Chicago on November 22, 2008.
"Since the late 1970s, Dehlsen has driven the vision that large-scale wind power generation could be competitive with carbon fuel power sources while mitigating the burdens of carbon fuel emissions on the biosphere" said Allen Rubin, coordinator of the Environmental Hall of Fame. "With his founding of Zond in 1980, among the nation's first and most successful wind energy companies, Dehlsen's pioneering work in wind energy guided the start-up of the global wind industry, forming the roots of some of today's industry leaders in both turbine manufacturing and wind project development."
"Dehlsen is recognized by the National Environmental Hall of Fame as the "Father of American Wind Energy" for his foresight, innovation and intensity to drive what was once a niche industry to mainstream power generation" he added.
In 2001, Dehlsen and his son formed Clipper Windpower, a leading wind project developer and turbine manufacturer. Dehlsen currently serves as the Company's Chairman of the Board. Through Clipper, Dehlsen introduced advanced technology which enables wind turbines to reach greater scale, economically. The Company's 2.5 MW Liberty turbine, since start-up of manufacturing in 2006, has been deployed into five projects in the US and will be deployed into the world's largest wind project under development, a 5,000 MW project with the capacity to power about 1.5 million average American homes annually. In the UK, Clipper is developing the world's largest wind turbine for offshore use -- a 10 MW turbine that will generate power equivalent to that produced by two million barrels of oil over its 30-year design life.
Highly respected throughout the energy sector, Dehlsen's achievements have been recognized with the Lifetime Achievement Award conferred by the American Wind Energy Association, and the Danish Medal of Honor conferred by His Royal Highness, Prince Henrik of Denmark.
About Clipper Windpower
Clipper Windpower, http://www.clipperwind.com, is a rapidly growing company engaged in wind energy technology, turbine manufacturing, and wind project development. With offices in the United Kingdom, United States of America (California, Colorado, Iowa, and Maryland), Denmark, and Mexico and a ISO9001:2000 QMS Certified, 330,000 square foot manufacturing and assembly facility located in Cedar Rapids, Iowa, the company designs advanced wind turbines, manufactures its 2.5-MW Liberty wind turbine and actively develops wind power generating projects in the Americas and Europe. Clipper is a public company listed on the London Stock Exchange's Alternative Investment Market (AIM). Clipper's ticker symbol is CWP.
The ordinary shares of Clipper Windpower Plc are traded on the Alternative Investment Market of the London Stock Exchange and are not registered under the U.S. Securities Act of 1933, as amended. Such shares may not be offered or sold to residents of the United States or to persons acting on their behalf, or to other persons who are "United States Persons" within the meaning of Regulation S as promulgated under the Securities Act of 1933, unless such shares have been registered under the Securities Act or there is an available exemption from registration.
For more information contact:
Mary McCann-Gates
Director, Global Communications
Clipper Windpower Inc.
6305 Carpinteria Avenue, Suite 300
Carpinteria, CA 93013
(main) 805.690.3275
(direct) 805.576.1323
(fax) 805.899.1115
(mobile) 661.301.0400
###