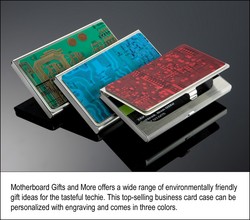 Northbrook, IL (PRWEB) December 11, 2008
Don't let the search for the perfect holiday gift for the family geek take a megabyte out of your holiday cheer. Whether your geeky loved one has been naughty or nice, let Motherboard Gifts & More help you choose a nifty holiday surprise.
High end geek gifts and gizmos are the specialty of this Chicago-area firm founded in 1991. Holiday gifts range in price from $8.99 to $139.00. Ideal for most any Hanukkah or Christmas gift budget.
# 1. Techie Tree Ornaments. The ornaments are available in three shapes and colors: a blue star, red bell and green tree. Together they add a new dimension to tree design because the unique circuit board patterns on each piece bring a technological twinkle to your evergreen. They are also ideal as holiday gifts. The lightweight ornaments include a knotted silver cord for easy placement on the tree. And while sizes slightly vary, each is about 3.5 x 3.5 inches. Now more than just your tree is recyclable. Price: $19.99 per set.
# 2. The Dog Tag. Geeks and gals can now wear their devotion around their necks with the new shimmering sterling silver dog tag by Motherboard Gifts & More. The dog tags are an elegant upgrade of the military-style name plate. Inlaid green and copper circuitry brilliantly contrasts the sterling silver casing with soldered bale and 20" sterling silver 2 mm ball chain which is included. The dog tag measures 2 ½" top to bottom and is 1 1/8" wide. A complimentary engraving of up to three initials is available on the smooth, polished back surface of the plate. Price: $139.99.
# 3. The Business Card Case. The bestseller is the business card case holds 10-15 cards and fits easily in a pocket or briefcase. Case dimensions are a sleek 2 1/4 x 3 5/8 inches. This geek gift can be engraved with a name for a personalized touch. Price: $26. 99
# 4. The Heart shaped and Circle Pendants. Both pendants dazzle the eye with green and copper circuitry encased in sterling silver. The heart pendant measures 1 1/8" L x 1" W. The circle pendant is 1 3/8" top to bottom. Price: $119. 99. Necklaces are sold separately. An 18" black rubber cord with silver clasp is available for $14.95. An 18" sterling silver 2 mm ball chain is priced at $19.99
# 5. The Coaster Set. Coasters may not seem particularly unique, but this six-piece set will look festive under mugs of egg nog or cocoa. The coaster set arrives in a storage tin with a circuit board top. Even the Grinch will love Christmas with these eco-friendly geek gifts. Price: $24. 99.
All Motherboard gifts are visually stunning and fully functional. Other geek gift suggestions including clocks, money clips, and even cufflinks - for the debonair geek - round out the catalog, and all are created from reclaimed circuit boards originally designed for computers, televisions, and other electronics. And a new holiday gift wrapping service is available for a small fee.
###