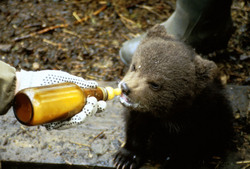 It's easy to spend $25, $50 or $75 on things like dry cleaning, event tickets or an evening out, but what people don't realize is that the same amount of money could actually save an animal's life. That's what this campaign is all about, showing people that it doesn't take a lot of money to make a big difference
Yarmouth, MA (PRWEB) December 11, 2008
The International Fund for Animal Welfare (IFAW) has just released the first installment of a three-part video series on its alternative gift program, Gift for Animals. Following the age-old adage that a picture is worth a thousand words, IFAW is showing, rather than telling people how valuable an animal gift can be.
The first video, which can be viewed at http://www.youtube.com/watch?v=c8HdYAlw64c, explains how $50 could dry clean a man's tuxedo or, instead, clean a penguin's "tuxedo" from an oil spill. Future videos will also show how far a dollar can go towards helping protect and save animals.
"It's easy to spend $25, $50 or $75 on things like dry cleaning, event tickets or an evening out, but what people don't realize is that the same amount of money could actually save an animal's life. That's what this campaign is all about, showing people that it doesn't take a lot of money to make a big difference," said Cassandra Koenen, Director of Online Campaigns and Marketing for IFAW.
IFAW's Gift for Animals program honors individuals while helping support IFAW's work around the world. People can purchase the gifts online at http://www.animalgift.org and select from one of five programs - Save A Seal, Help a Bear Cub, Protect Elephants, Send Urgent Pet Care or Rescue Animals. Gift amounts start at only $25 and each comes with a special package containing a distinctive gift card and a full-color pamphlet telling the story behind the animal that gift saved. In addition, gifts from $25 - $49.99 come with a holiday ornament handmade by women in Africa, gifts $50 and over receive an IFAW stainless steel water bottle and orders over $75 come with a canvas tote bag bearing the IFAW logo. Orders must be placed by December 17th to guarantee arrival by Christmas.
About IFAW:
Established in 1969, IFAW (http://www.ifaw.org) is one of the world's leading animal welfare organizations. It works tirelessly towards achieving lasting solutions to animal welfare and conservation challenges that benefit both animals and people. IFAW has more than 200 experienced campaigners, legal and political experts, and internationally acclaimed scientists working from offices in 15 countries around the world.
###