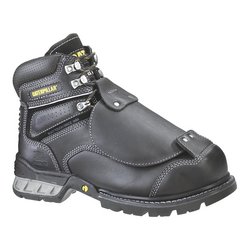 Utilizing this innovative material in our industrial footwear proves that protection doesn't have to come in rigid, bulky styling. It is possible to achieve the same level of protection in flexible footwear that moves as you move
Rockford, MI (PRWEB) December 11, 2008
In keeping with the Caterpillar® legacy of innovation and design excellence, Cat Footwear introduces the world's first global industrial footwear featuring d3o™, a revolutionary material for flexible impact protection.
In partnership with the d3o™ lab, Cat Footwear is launching the first flexible external metatarsal guard work boot featuring d3o™ technology. d3o™ is a patented, shock-absorbing material with intelligent molecules that flow as you move. But upon impact, the molecules lock together to absorb shock and resist impact. Already used in protective sports gear and military apparel, the introduction of the Cat Footwear "ERGO FlexGuard" is the beginning of a strategic partnership for d3o™ in the footwear industry.
"Utilizing this innovative material in our industrial footwear proves that protection doesn't have to come in rigid, bulky styling. It is possible to achieve the same level of protection in flexible footwear that moves as you move," says Ian White, Director of Footwear Development for Cat Footwear.
The ERGO FlexGuard features an anatomically molded d3o™ metatarsal guard with the ability to bend and flex as the wearer moves through a range of motions. The metatarsal guard protects the consumer's instep and metatarsal areas when the foot is exposed to 'drop' hazards. Upon impact, d3o™ -- which is encased in leather -- absorbs shock and resists the impact, protecting the wearer from injury.
In addition to the flexible met guard, the ERGO FlexGuard boot features the patented iTechnology construction from Cat Footwear - a method of manufacturing footwear that combines workboot durability with athletic footwear comfort. With a slip-resistant rubber outsole that includes siping for improved traction, the ERGO FlexGuard provides the wearer with superior performance in safety footwear.
"We can't wait to get these boots on consumer's feet," comments White. "We are confident that the ERGO FlexGuard with d3o™ technology is going to change the way consumers think about protective footwear. Consumers can and should expect their work boots to move freely with them while providing superior protection against worksite hazards. We think the ERGO FlexGuard is just the beginning."
Cat Footwear manufactures shoes and boots that represent the long-standing values of the Caterpillar brand. Known globally for manufacturing high quality work and rugged casual footwear, the company is committed to developing innovative comfort, durability and technology features. Brand and product information available online at http://www.catfootwear.com.
Cat Footwear is a division of Wolverine Worldwide, Inc. (NYSE: WWW), with global headquarters in Rockford, MI., U.S.A. Cat Footwear is a global licensee of Caterpillar Inc. With a commitment to service and product excellence, Wolverine World Wide, Inc. is one of the world's leading marketers of branded casual, active lifestyle, work, outdoor sport and uniform footwear and slippers. The Company's portfolio of highly recognized brands includes: Bates®, Hush Puppies®, HYTEST®, Merrell®, Sebago®, and Wolverine®. The Company also markets footwear under popular licensed brands including CAT®, Harley-Davidson® and Stanley®. The Company's products are carried by leading retailers in the U.S. and are distributed internationally in over 140 countries. For additional information, please visit our website, http://www.wolverineworldwide.com.
Editor's Notes:
For more information about Cat Footwear or to request product images, please contact Kelly Ballou at 616.863.3818 or kelly.ballou(at)wwwinc.com.
For more information about d3o™, visit http://www.d3o.com or contact Charlotte Gough at charlotte(at)d3olab.com.
©2008 Wolverine World Wide, Inc. Cat, Caterpillar and their design marks are registered trademarks of Caterpillar Inc.
Product Information:
ERGO FlexGuard - P89942
Classic Cat styling is combined with an ergonomically-accurate, flexible metatarsal guard. Featuring the T839 iTechnology SuperDuty rubber outsole with siping, this product combines superior slip and abrasion resistance with on-the-job performance and safety.
ASTM F2413-05 I/75 C/75 Steel Toe
Electrical hazard protection
Slip resistant outsole
Metatarsal guard
Available at retail: July 2009
Suggested Retail: $150
###