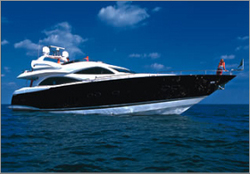 People that were considering purchasing a luxury yacht before the recession hit still want to enjoy the fruits of their hard labor, their just more cost conscious now
Newport Beach, Calif. (PRWEB) December 12, 2008
SeaNet Company Inc., a leader in fractional yacht industry, is experiencing a boom in its client base. Have yacht buyers gone crazy? "With current market conditions the way they are, it makes more sense to share the cost of yacht ownership now then ever before', says Mike Costa, founder and President SeaNet Fractional Yachts.
Five years ago, SeaNet launched its first Sunseeker fractional yacht. At that time, the economy was booming and the majority of SeaNet's fractional yacht client base was mainly comprised of yacht enthusiast that just didn't have the time or desire to use the yacht as much as single ownership dictates. Today, they've seen a shift towards the savvy cost conscious buyer.
"Most owners use their yacht a few times a year," said Costa. "It's an expensive idle asset, and the financial commitment for maintenance is costly and time consuming."
To meet current market demands, SeaNet offers an array of financial programs that include equity based ownership and, their more popular, SeaNet Card Member program where participants can purchase one year increments similar to a lease. With flexible program terms, unlike the destination club industry, SeaNet allows their clients to move in and out of yachting without the burden of being attached to the depreciating asset.
"People that were considering purchasing a luxury yacht before the recession hit still want to enjoy the fruits of their hard labor, their just more cost conscious now" Costa denotes.
The luxury yachting lifestyle for those that can still afford it, but don't want to flaunt it, can be found in SeaNet. For people that want to "Try before you buy" SeaNet's program is an excellent way to find out if boating is for them.
Common hassles and fees associated with sole-yacht ownership are eliminated. SeaNet handles crew, slip fees, insurance, routine maintenance and more. Owners are free to use and enjoy their yacht more often.
Concierge services ensure that all details are met prior to setting sail. Members can choose luxurious bed linens, have family photos placed around, enjoy specific music, and indulge in favorite wines, gourmet items and more.
"It's a Ritz-Carlton level of service," Costa explained. "No other fractional-fleet operation offers such a high-end level of service."
Fractional-yacht ownership is ideal for corporations and families, alike. Each yacht has a licensed and tenured captain on board. However, they can choose to relinquish their captain duties, at anytime, to fully enjoy their time at sea.
All of SeaNet's yachts bear the spectacular Sunseeker name and are designed for yacht enthusiasts who demand perfection in quality, performance and style.
SeaNet, based in California, has three ports-of-call: Newport, San Diego and Los Angeles. Several yachts also travel to Mexico during the season and, in 2008, they have locations in Miami and future plans for the Mediterranean season.
###