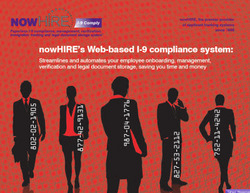 In addition to the federal mandate for government contractors, states such as Arizona and Colorado now mandate that employers use the government's E-Verify system for non-federal contractors
Detroit (PRWEB) December 11, 2008
Beginning Jan. 15, 2009, the U.S. government will require federal contractors to enroll in E-Verify® to confirm the identity and employment eligibility of both citizen and non-citizen workers in the United States. E-Verify is an Internet-based system operated by the Department of Homeland Security (DHS) in partnership with the Social Security Administration (SSA).
nowHIRE's I-9 Comply™ System is the first offering from an applicant tracking system vendor to deliver paperless I-9 compliance technology and real-time integration with the government's E-Verify system. nowHIRE is a federally approved designated agent, and nowHIRE's E-Verify Program is a government-certified program.
nowHIRE will host a Webcast on Thursday, Dec. 18, 2008 at 10:00 a.m. Pacific time to discuss E-Verify and I-9 compliance with the nowHIRE program. To register for the complimentary Webcast, visit https://www1.gotomeeting.com/register/178764844.
The federally approved nowHIRE I-9 Comply System with the optional E-Verify component is an intuitive Web application that enables employers to verify employee eligibility in seconds. Previously, I-9 compliance was a time-consuming and paper-heavy process. nowHIRE's I-9 Comply offers an automated, paperless and seamless document processing and storage system. The E-Verify Program from nowHIRE is an optional integration with the federal government's E-Verify program and allows organizations to view and directly submit data to the federal E-Verify system. Organizations are able to see results immediately and take the necessary actions.
"In addition to the federal mandate for government contractors, states such as Arizona and Colorado now mandate that employers use the government's E-Verify system for non-federal contractors," said Joseph Impastato, founder and chief executive officer of nowHIRE. "nowHIRE is committed to staying ahead of the government's increased enforcement of employment eligibility by offering our I-9 Comply system."
The Immigration Reform and Control Act of 1986 required all employers to verify the identity of new hires and whether they are legally eligible to work in the United States. Yet fraud and poor verification processes often result in Form I-9 compliance violations.
More recently, the government stepped up criminal enforcement of Form I-9 violations, with penalties ranging upwards to $11,000, prison time, forfeiture of assets and even prison sentences. These consequences, along with the trend towards mandated use and an interest in further automating their hiring systems, are generating increasing interest from employers.
nowHIRE's E-Verify Program electronically compares employee information from the government's paper Form I-9 - name, date of birth, social security number and immigration information - against more than 425 million records in the Social Security Administration database and more than 60 million records in the Department of Homeland Security's immigration databases.
The nowHIRE I-9 Comply system with optional E-Verify Program is available in three versions - a standard version to attach to the nowHIRE ATS, a configurable version that integrates with unique ATS implementations, and a stand-alone version. This means employers can automate and streamline their verification process, regardless of whether or not they have a nowHIRE ATS installed.
For more information about the nowHIRE E-Verify Program, visit http://www.nowhire.com/EVerify.htm.
About nowHIRE
Since 1998, nowHIRE has provided of applicant tracking systems for companies of every size within diverse vertical markets. Their industry-defining solutions feature fully integrated, Web-based recruiting and applicant tracking software modules. Companies can configure the software to their specific recruiting needs--for hourly, salaried, internal or contingent employees, or any combination thereof.
Media Contacts
Joseph N Impastato II
nowHIRE
586-778-8491 (x15)
joseph.impastato (at) nowHIRE.com
Adriana Saldana
Fisher Vista, LLC / HRmarketer.com
831-685-9700
asaldana (at) hrmarketer.com
This press release was distributed through eMediawire by Human Resources Marketer (HR Marketer: http://www.HRmarketer.com) on behalf of the company listed above.
# # #