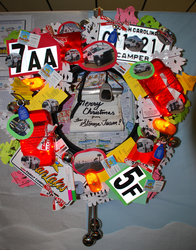 Myrtle Beach, SC (Vocus) December 11, 2008
Ocean Lakes Family Campground encouraged its teammates to get in the Christmas spirit by decorating a tree or wreath, but there's a catch. They could not buy any decorations. They had to decorate with only items they could find in their own department.
In light of hard economic times, Marketing thought it would be fun to save money and decorate two wreaths with what they had in their office. "Everyone was stopping by our department to see," explains Barb Krumm, Marketing Director. "It actually did not start as a contest, rather more of a creative challenge. We just wanted everyone to have fun and get in the holiday spirit." However, once the challenge was issued across all departments, it was clear a contest was on.
Ocean Lakes Front Office teammates began creating immediately, but they even had a bigger challenge. "I decided that they couldn't buy a wreath or tree to decorate," smiles Judy Hudson, Front Office Manager. "My teammates had to get even more creative." They overcame that challenge by making wreaths with bows out of oversize maps and car passes, as well as a 3-foot tall tree out of campground maps.
"It was amazing to see everyone's mind working with creative energy," laughs Krumm, "then came the wreath by the Storage Department guys!" Ocean Lakes Storage and Transport Department stunned everyone with their wreath made of a blown camper tire, decorated with flashing tail lights, mangled camper parts, reflectors and more. "At first, I think the other teammates felt over whelmed, and I heard several teammates say 'Storage has won!' But in end I think Storage really brought on the challenge, I could have never imagined the eleven (11) entries would be so awesome!" exclaims Krumm.
Ocean Lakes' Security created a wreath with old uniform shirts, handcuffs, reports, confiscated items and a flashing blue light. Ocean Lakes Human Resources' wreath includes time reports, decals, office supplies, an entire time clock and a pay check addressed "Santa HR Has Been Good." The Game Center features a bow made out of redeemable game tickets, toys that blink and even a plastic helicopter. Ocean Lakes Golf Cars' entry sits on the back of golf car parked in the Ocean Lakes Main Office. The tree includes neon, parts, reflectors, a working horn button and even light switches. It's topped with a star made of washers. Ocean Lakes RV Center's wreath is made on a toilet lid with rolls of toilet paper, parts and supplies.
"We are considering auctioning them off to Ocean Lakes guests this summer to raise money for charity," says Krumm. Judging is taking place starting today through Friday, December 12th at 2 PM. The Ocean Lakes teammates are casting ballots for three winners: Most Festive, Wow!, Most Creative Use of Departmental Supplies. Winners will be announced at The Jackson Companies Awards Breakfast.
Ocean Lakes Contact: Barb Krumm, Director of Marketing & Public Relations (843) 828-4829, cell (843) 457-0601.
###