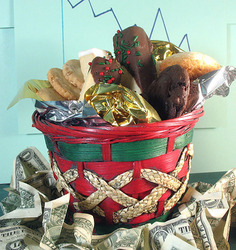 As far as bailouts, that's what we do best -- we will bail you out of the never ending holiday gift problem of what to buy, and do it at a price that won't break the bank or leave you insolvent
Sacramento, CA (PRWEB) December 11, 2008
ChocolateBakery.com a California online bakery is doing its part to add a little cheer to the holidays that may be foreclosed by the economic meltdown.
ChocolateBakery owner and pastry chef Judy Parks has created a new bakery Bailout package designed to pull us out of a psychological recession. "Unlike the funny money issued by the Feds, our Christmas cookies are made with real dough. Our Chocolate Meltdown cookies will melt in your mouth, but won't melt your net worth. Our Freddie Mac is a moist Coconut Macaroon and the Credit Crunch is a buttery cookie with crunchy almonds," said Parks.
"As far as bailouts, that's what we do best -- we will bail you out of the never ending holiday gift problem of what to buy, and do it at a price that won't break the bank or leave you insolvent," said Parks.
Parks is very confident that you won't be short selling her shortbread because your friends, relatives and colleagues will be going long for more. She is equally certain that there will be no predatory lending of these wonderful treats, that interest will be high and that protectionist barriers will become a necessity.
An unidentified source said today that they expect the demand for the Bailout cookies to increase employment, and raise the commodity prices of sugar, flour and dairy products across the country. When asked about this report, Parks, who had not yet heard the Feds statement, said she is not surprised. She expects that these delectable treats will leverage the consumer confidence index, increase overall holiday spending, get the economy off to a sweet New Year, and put a smile on everyone's face.
The ChocolateBakery.com bailout package does not cost trillions, only $19.95. These wonderful creations can be found online at: ChocolateBakery Bailout
About ChocolateBakery.com Company:
ChocolateBakery.com is an online bakery, located in Sacramento, CA. They specialize in the overnight delivery of gourmet birthday cakes and other bakery items for Christmas and other holiday gifts.
###