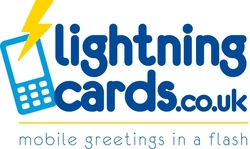 These days virtually everyone has a mobile phone so we think it makes sense to be able to send greeting cards via the mobile. People love receiving texts and because www.lightningcards.co.uk [LightningCards] are so innovative, fun and lively we're certain they will be very popular. Our target market is the 18 to 30 year age group, typically the biggest texters
(Vocus) December 12, 2008
LightningCards is a new company that enables you to send personalised and animated greeting cards with sound directly to mobile phones.
LightningCards is the first company of its kind and in an era dominated by the mobile phone the business is expected to be a huge hit with text fans.
MD Darren Daws believes "These days virtually everyone has a mobile phone so we think it makes sense to be able to send greeting cards via the mobile. People love receiving texts and because LightningCards are so innovative, fun and lively we're certain they will be very popular. Our target market is the 18 to 30 year age group, typically the biggest texters"
The http://www.lightningcards.co.uk website features an impressive range of over 100 fun and entertaining cards, from Birthdays, Christmas, Easter & Valentines. The animations are tailored to every seasonal scenario, from bouncing Easter bunnies to Ski-ing Santa's and doting couples on Valentine's day.
It only takes a few seconds for the LightningCard to arrive on a recipient's handset and could prove to be a lifesaver with people who miss the dreaded last Christmas post.
The animated greeting cards are sent via MMS multi-media technology so the message is sent fully to the recipient's phone and the recipient doesn't incur any download costs.
So for anyone getting caught short with the mail this Christmas, a LightningCard could be the ideal solution.
About LightningCards.co.uk – For Editor
Lightningcards.co.uk provide greeting cards that can be sent to someone's mobile phone. They contain animations, sound and personalised messages. A lightning card is multi-media message delivered to the recipient's mobile and doesn't incur any download costs. The cards are purchased directly from http://www.lightningcards.co.uk and cost £2.00.
For further information, please contact:
Kathryn Mann
LightningCards, Littleton Old Hall, Little Heath Road, Littleton, Chester CH3 7DW
Tel: 0845-0093-188
###