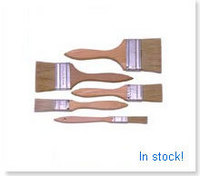 Torrington, CT (PRWEB) December 14, 2008
Solo Horton Brushes, a leading supplier of industrial brushes, has expanded its offering of chip brushes and chip paint brushes. The company now offers one of the most extensive offerings of chip brushes in the industry.
Chip brushes are used primarily for painting, gluing, or as oil and chip brushes, depending upon the task at hand. Solo Horton's extensive inventory includes the 60W, 65, 67, and 80 Series chip brushes available in a variety of widths, thicknesses, and bristle lengths.

60W Series - These disposable chip brushes feature pure white China bristles, and are used in multi-purpose paint, touch-up or gluing applications. The 60W series brushes feature bristles securely set in epoxy for solvent resistance.
65 Series - Premium grade white China chip brushes are useful for applications where brushes may be used several times or where bristle loss can be less tolerated. The 65 Series brushes feature a longer bristle length than the 60W Series, and are thicker for holding more paint or glue.
67 Series - The 67 Series feature the company's best grade China bristle chip brushes. These brushes are very well-filled and firmly held with the latest epoxy glues. The 67 Series brushes are more tolerant of today's exotic solvents. Made in USA.
80 Series - For applications where synthetic bristles are preferred, the 80 Series offers economical chip brushes featuring polyester bristles set in epoxy.
Solo Horton Brushes maintains one of the most comprehensive selections of industrial brushes in the industry. The company keeps every item in stock, and ships most orders the same day as placed. Additionally, all orders over $75 qualify for free shipping.
About Solo Horton Brushes
Solo Horton has set the standard for industrial brushes since 1920. The company offers an extensive inventory of brushes that blend quality and economy at every price level. All industrial brushes -- including chip brushes, artist brushes, paint brushes, tube brushes, cleaning brushes and more -- are in-stock and ready for immediate shipment. Volume discounts and free shipping are available. For more information, visit solobrushes.com or call 1-800-969-7656.
###