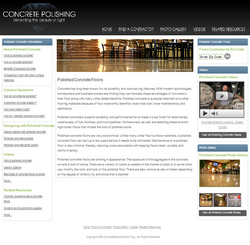 Yucaipa, CA (PRWEB) December 12, 2008
New website, PolishedConcreteFloor.org offers a comprehensive guide for consumers researching concrete polishing techniques through it's in-depth articles, videos, photos and more. As polished concrete floors continue to grow in popularity among designers, builders and homeowners, this site was built to educate consumers on the many facets of concrete polishing by exploring what polishing involves and what the possibilities are.
The site is broken up into four sections outlining the specifics of concrete polishing. Sections include detailed information covering topic overviews, frequently asked questions, design options and possibilities and polishing videos. Along with these sections the site provides an in-depth photo gallery consumers can use to gain inspiration from, along with links to other valuable resources on the subject.
Within its comprehensive backlog of articles, the site covers topics like what polished concrete is, how concrete is polished, typical costs and the benefits of polished floors compared to other flooring materials, like carpet, tile and wood floors.
Polished concrete is considered a popular alternative to other flooring materials because of three noteworthy benefits: lower total cost, lower maintenance, and aesthetics. Because of these benefits, polished concrete's superior durability and performance have made it a top finish for retail stores, warehouses, office facilities and municipalities, and is also becoming popular within households.
PolishedConcreteFloor.org was created with the goal of providing more than just a general overview of an emerging trend, but is a website where consumers can research and learn everything there is to know about choosing a polished concrete floor for their home, office or retail space.
PolishedConcreteFloor.org also brings together consumers and local concrete contractors by pointing to a nationwide contractor directory. Consumers can use the site to learn about concrete floor polishing, choose photos of designs they like, and then access the directory for contact information for polishing contractors in their local area.
Photos courtesy of Concrete Treatments Inc.
###