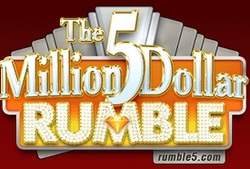 Brooklyn, NY (PRWEB) December 12, 2008
Gregory Rzeczko, a 26 year-old entrepreneur, has released a new website, The Five Million Dollar Rumble (The Rumble 5 http://www.rumble5.com,) to help raise funds for his start-up Soma Studios http://www.somastudios.net in Brooklyn, New York. The idea is simple: Webpage owners purchase RUMBLE spots (advertising space at The Rumble 5) to have their webpages rumbled. Visitors visit The Five Million Dollar Rumble and rumble webpages by just visiting or clicking on the Rumble! button. The more visitors that visit The Rumble 5, the more visits rumble spot owners receive. There are only 50,000 of these rumble spots available and they go for only $100 each.
Gregory, who has been researching and following up on ideas that work and succeed on the internet, believes this idea will work and help webpage owners promote their webpages to a large world audience. In his blog, he writes "Usually when new ideas appear on the internet that are making money from a simple and somewhat 'bizarre' idea that has not been attempted in the past most likely create a 'buzz.' People start to read about it on the internet, the news, and hear about it from word of mouth. Then out of curiosity, people tend to visit the webpage to see what it's all about. A great example is The Million Dollar Homepage (http://www.milliondollarhomepage.com). Selling pixels for only $1 each and making a cool million dollars. Why did this webpage succeed? Because it was a simple, new idea that stirred people's curiosity to see if Alex Tew, the creator of The Million Dollar Homepage, is really going to make one million dollars from his pixel selling idea. It turned out he did, and while people visited The Million Dollar Homepage, they clicked (and still do) on these 'pixel ads' to check out these webpages.
What's unique about The Five Million Dollar Rumble (The Rumble 5) is that there are no ads to click. Visitors visit RUMBLE spot owners' webpages by visiting The Rumble 5 or by clicking on the RUMBLE! button. Your web browser then RUMBLES and a webpage appears at the bottom frame. You can see the results of how many RUMBLES these webpages receive by visiting the Owner List & Live Stats link at the top frame. If you like what you see and own a webpage, you can purchase as many RUMBLE spots as you like as long as they are available. The more spots you purchase, the more you increase your chances of having your webpage RUMBLED. This webpage is guaranteed for a minimum of 10 years with the goal of having it longer. "
His blog goes into further detail of how he came up with this idea, Soma Studios and its current and future plans, and more about The Rumble 5.
Soma Studios (http://www.somastudios.net) is an interactive web and creative arts studio in Brooklyn, NY. All current releases are in BETA (meaning they require a lot of work, hence the website The Rumble 5 to acquire funds.)
Current work includes four websites (The Music Hutch, Monster Blog Sack, CampusGrind, and Polski Domek) released as beta. Below are short descriptions of each website.
The Music Hutch (http://www.themusichutch.com) offers free space for anyone to upload music. Anyone may upload, search, browse, rate and listen to music and watch music videos, create a profile, browse & search members, and share music with friends; add songs and music videos to his or her The Music Hutch playlist & profile, webpage, blog, social network profile, etc. and more. Future plans are top music charts based on people's votes from around the world, musician artist profiles, equalizers, customizing The Music Hutch player skin, being able to create multiple playlists, ways on helping new artists be recognized, and much more.
Monster Blog Sack (http://www.monsterblogsack.com) is a unique blog directory and community. The Monster Blog Sack toolbar (Currently FireFox 1.5 only) allows you to randomly surf blogs (surf the sack) according to your categories of interest. You can sack, tag, share, add to favorites, and search for blogs. This website is currently in early BETA stages and requires a lot of work. Much is planned, and not only for blogs. Future plans include improving the member community, surfing fresh blog entries that members sack, ways on earning money for blogging, and much more. The monster in the logo also has a name. His name is Thoghar the Monster. Gregory has some neat ideas on making Thoghar the Monster come to life on screen. Monster Blog Sack may currently have a few bugs due to recent server upgrades. He will be working to get it fixed.
CampusGrind (http://www.campusgrind.com) is an online social network for colleges currently in the United States (over 3,200 campuses nationwide.) This website is also in BETA and requires a lot of work. Gregory released this website with Wojciech Pirog, a good friend and colleague of his, during his college years (back in 2004) with the focus of helping college students save money on textbooks and more. Much work is planned and the goal is to build a college/campus portal/social network for colleges everywhere.
Polski Domek (http://www.polskidomek.com) is also an online social network where you may share photos and videos with friends, post blog entries, keep in touch with friends and family, and much more. This website is currently in Polish (and translates to English.) More languages and countries coming soon with future plans unlike any other social networking website on the internet.
The Rumble 5 is definitely worth a look. Your web browser is going to rumble while checking out websites that people are promoting on the internet. If you are a webpage owner who is looking for a great way to promote your website, The Rumble 5 offers the solution for as low as $100. So far Gregory has sold 10 rumble spots and earned $1,000.
###