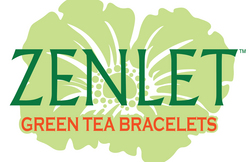 I am thrilled to see Hollywood embrace the green movement
San Diego, Calif. (PRWEB) December 14, 2008
Zenlet® Green Tea Bracelets were just one of the many gifts for the TBS Very Funny Comedy Festival and the American Music Awards this November. Anyone who is anyone in Hollywood is now sporting the all-natural Zenlet Green Tea Bracelet View Video.
The Zen bracelets, or Zenlets, are unique in that they are made with green tea. The green tea and anti-oxidants absorb into your skin and body through a process called transdermal absorption. The bracelets are stylish, healthy and environmentally friendly!
"I am thrilled to see Hollywood embrace the green movement", explains David Jensen, CEO of SoutherLee, Inc. "Celebrities play a key role as trend setters in our culture shaping our behavior and habits".
Zenlet Green Tea bracelets are available online at http://www.zenlet.com. Make green tea a part of your everyday life!
About Zenlet.com
Zenlet.com is a division of SoutherLee, Inc., an innovative novelty product firm located in San Diego, California. A privately held company founded in 2006, SoutherLee, Inc. specializes in developing unique, efficacious, socially responsible products. The company's product lines include Zenlet® Green Tea Bracelets and Aroma TheraTea™ Green Tea Spa Pillows.
Reference:
Connected Celebrity Gift Rooms
# # #