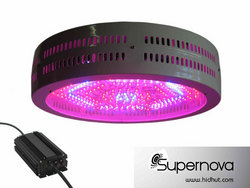 Every technological advance like this in our industry will allow more and more families to pursue their dream of growing fresh and healthy organic foods.
McIntosh, Florida (PRWEB) December 13, 2008
HIDHut, the online leader for quality discount hydroponic gardening supplies, announces the introduction of the Supernova LED Grow light, a new 270-watt LED grow light. This small but powerful light outshines HIDHut's earlier UFO LED grow light by three times the brightness, but uses one-eighth the energy consumption of a typical HPS grow light with a comparable output.
HIDHut president, founder and inventor of the Supernova, Justin Robinson, understands the value of green solutions for growing produce. "All of these great innovations are not only good for people who have gardens or would like to start hydroponics gardening," states Robinson, "they are great for the environment, which is a major concern for many people who are consumers in this market."
Relying on research from the University of Florida and NASA, Robinson developed the Supernova's predecessor, the UFO 90-watt LED grow light, over the course of two years. A great deal of rigorous testing was performed on both lights in order to ensure a quality product. The lights have been tested for both the spectrums of light and their application to specific plant varieties as well as the longevity of the LED grow light.
The lights were tested on fruiting and flowering plants, and with soil and hydroponic growing mediums. Robinson explains that "We utilized a ten site testing chamber with nine watts per site to independently test different light ratios." The UFO covers a three foot by three foot area, and the Supernova reaches an even larger five foot by five foot growing space.
The lights also have the added benefit of running cooler than HPS grow lights. Fans are built into the LED grow light, so that air-cooled reflectors and ducting are not needed with these unique lights, adding an additional cost savings for the consumer.
The UFO and the Supernova LED will run up to 150,000 hours, which is comparable to approximately 30 years use in an indoor greenhouse situation. The lights can be tailored in terms of the color spectrum /using a Red knob and a Blue knob to independently adjust the ratios, so that only light used by the plants is emitted, and thus no light is wasted on spectrums the plants cannot use. The Supernova has seven different circuit boards to project the light at different angles for maximum coverage and flexibility in use; it is offered in standard spectrum as well as enhanced spectrum models.
Robinson believes that LED grow lights will have a major impact on how people garden today. "Every technological advance like this in our industry will allow more and more families to pursue their dream of growing fresh and healthy organic foods."
For additional information on the Supernova LED grow light, contact Justin Robinson or visit http://www.hidhut.com.
About HIDHut:
HIDHut Discount Gardening Supplies is the leading online source for quality discount hydroponics equipment and supplies, including the UFO and new Supernova LED grow lights.
Contact:
Justin Robinson, President
HIDHut Discount Gardening Supplies
866-678-8565
http://www.hidhut.com
###