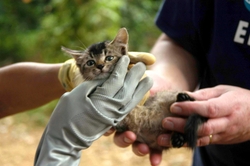 Yarmouth Port, MA (PRWEB) December 15, 2008
With only a week and a half remaining until Christmas millions of people are STILL racking their brains trying to figure out what to buy a loved one, friend or colleague this year. And probably high on the list is something meaningful, memorable and useful long past the holidays.
A Gift for Animals gift by the International Fund for Animal Welfare (IFAW) might just be the perfect solution. It's meaningful - every gift helps to save or protect the life of an animal in need; it's memorable - how can anyone forget that they helped feed an orphaned bear cub, clean an oiled penguin or rescue a pet from a natural or manmade disaster; and it's useful even after Christmas - a Gift for Animals gift helps support IFAW's work all year long.
IFAW recently released a series of videos to help demonstrate how valuable an animal gift can be by showing the important work a gift makes possible. A compilation of that series has just been released and can be viewed here: http://www.youtube.com/watch?v=1uVGYO-yIAI
People can purchase the gifts online at http://www.animalgift.org and select from one of five programs - Save A Seal, Help a Bear Cub, Protect Elephants, Send Urgent Pet Care or Rescue Animals. Gift amounts start at only $25 and each comes with a special package containing a distinctive gift card and a full-color pamphlet telling the story behind the animal that gift saved. In addition, gifts from $25 - $49.99 come with a holiday ornament handmade by women in Africa, gifts $50 and over receive an IFAW stainless steel water bottle and orders over $75 come with a canvas tote bag bearing the IFAW logo. Orders must be placed by December 17th to guarantee arrival by Christmas.
About IFAW:
Established in 1969, IFAW (http://www.ifaw.org) is one of the world's leading animal welfare organizations. It works tirelessly towards achieving lasting solutions to animal welfare and conservation challenges that benefit both animals and people. IFAW has more than 200 experienced campaigners, legal and political experts, and internationally acclaimed scientists working from offices in 15 countries around the world.
###