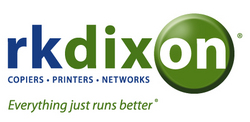 Davenport, Iowa (PRWEB) December 16, 2008
RK Dixon, a leading provider of copiers and printers, managed print services and IT solutions, is celebrating their 25th anniversary this year. A celebration for their 200 employees and guests was held this fall at the River Center in Davenport, Iowa.
RK Dixon was founded in 1983 by Bob and Carla Dixon, with office locations in Davenport, Iowa, and Peoria and Rockford, Illinois. It is now a second-generation company with Bryan Dixon residing as president & CEO and Jeff Dixon as president of IT. Bryan and Jeff both got their start early at RK Dixon - Bryan initially doing accounting and Jeff starting up the IT business. The transition from one generation of Dixons to another has been flawless and their success as a company mirrors the Dixons' strong and solid business ethics.
During its 25-year history, RK Dixon has grown steadily and continued to offer advanced technology in the areas of copying, printing, IT solutions and pure drinking water systems. Throughout the years, they have expanded their business by adding several new product lines and negotiated three successful corporate acquisitions, increasing their market to seven locations in Iowa and Illinois.
RK Dixon has created unique programs such as Make My Non-Profit Run Better, which provides office technology makeovers for non-profits in the communities they serve, and Operation Green, a campaign designed to help the company and its employees focus on how they can reduce their carbon footprint.
Over the past 25 years, RK Dixon has continuously shown its commitment to customers by matching the best product with their customers' needs. They partner with a variety of the industry's most respected technological companies to help reduce costs and provide solutions ensuring that "Everything Just Runs Better."
Moving into the future, RK Dixon will continue to grow their business through healthy acquisitions and more diversified offerings. They will focus on their mission to provide businesses with unique and innovative solutions and superior customer service. The Dixon family would like to thank all their customers and employees for the past 25 years.
According to SCORE (a resource of the Small Business Administration) only two-thirds of small businesses survive at least two years, and only 29 percent make it to ten years. RK Dixon, a family owned company, has succeeded because of its commitment to the customer and its focus on exceeding expectations.
For more information on RK Dixon, please visit rkdixon.com or contact Sue Hill at 309.692.3300.
About RK Dixon - RK Dixon streamlines operations and reduces document costs for small to large offices. It provides a broad range of products and services for virtually every critical office application, from copying systems by Canon and Lanier, to integrated computer networks by Microsoft® Gold Certified technicians. This 25-year-old company retains a highly-trained and tenured staff and provides its customers with products boasting over 99 percent uptime. RK Dixon serves 81 counties in Iowa, Illinois, and Wisconsin with office locations in Davenport and Cedar Rapids, Iowa and Bloomington, Champaign, Peoria, Rockford, and Springfield, Ill. For more information, visit rkdixon.com or call 563.344.9100 or 800.553.0020.
@@@