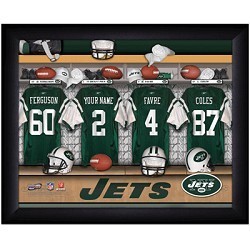 Guys can put their name over Brett Farve's number - how cool is that?
Santa Rosa, CA (PRWEB) December 14, 2008
GroomStand.com's newly acquired NFL, NHL, and MLB sports signs offers those on the hunt for guy gifts a chance to get in the game. GroomStand®, a purveyor of luxury groomsmen gifts recently added the sports signs to their collection - a play met with overwhelming success for the website.
CEO of Shopping Stand, Inc. ®, parent company of GroomStand.com, Ramin Ramhormozi recruited the personalized sports signs for GroomStand.com just in time for the holiday shopping season. "It was a no-brainer. They're sports licensed, handsomely framed and you can personalize them with your buddy's name and favorite NFL, NHL, or MLB team," he relays.
The personalized sports signs make "phenomenal groomsmen gifts" according to the guy gift expert, but they're also fantastic holiday presents. "Guys like to leisurely hang out and watch their team at the tavern. Why not bring that laid-back atmosphere home? They can hang the sports sign in their man cave or office and it will stay there for years," says Ramhormozi.
It comes as no surprise to Ramhormozi that the NFL Locker Room Sign quickly achieved MVP status as GroomStand's most popular sports sign. The plaque depicts a sports fan's favorite team's locker room with a personalized jersey in the middle. "Guys can put their name over Brett Farve's number - how cool is that?" he quips.
Last-minute trades won't run interference on these sports signs. Changes to the team are made to all the signs almost immediately. "When the Packers traded Farve to the Jets we got a new sign within 24 hours," Ramhormozi says.
Due to the popularity of the sports pub signs, Ramhormozi plans to expand the collection in the future. Guys can purchase several signs at a time for groomsmen gifts - all personalized with the team's logo and their friends' names. Holiday shoppers should get their orders in early, as it takes 5-7 days to process and personalize the signs.
About Shopping Stand, Inc. and GroomStand.com
GroomStand.com is the leading purveyor of fine groomsmen gifts. In addition to operating GroomStand.com, Shopping Stand, Inc. builds and operates online gift and accessories stores at WeddingStand.com, ShoppingStand.com, and Guyville.com. Shopping Stand, Inc. also offers a custom toast writing service at ThePerfectToast.com.
###