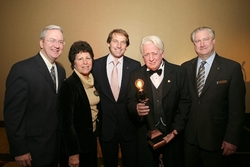 Many of life's failures are people who did not realize how close they were to success when they gave up.
Edison, New Jersey (PRWEB) December 15, 2008
Famous inventor Thomas Edison and namesake of this wonderful township took time out of his day to attend the "reinvention" of the Sheraton Edison at Raritan Center. His unexpected appearance at the event surprised the attendees who enjoyed his colorful stories that weaved in many of his most famous quotes.
Upon arriving to the Sheraton Edison Hotel, the first thing you will notice is a very large banner hanging from the top of this familiar area landmark. The banner reads "ALL NEW" and you might be a bit skeptical. Mr. Edison himself indicated he was until he walked in the front doors. "Nothing about this place is as anyone had remembered. Beyond new, it is astonishing."
According to the hotel's new owner and mastermind of the redevelopment Mr. Dave Pollin, "Too many hotels have used and destroyed the phrase 'renovation' by making such grand claims when all they are really doing is catching up on deferred maintenance. From the moment you step inside, this hotel is totally reinvented."
Mr. Pollin is President of The Buccini/Pollin Group and its management of the Sheraton Edison at Raritan Center is entrusted to PM Hospitality Strategies, Inc. (PMHS). Working with the owners, PMHS made certain that the hotel's dedication was memorable. They invited the Edison Chamber of Commerce to join with them to co-host the event. Ms. Barbara Roos, President of the Edison Chamber was very pleased with the effort made by the hotel's management team. Attendees were treated to libations at an open bar along with cuisine from renowned area Chef John Andersen. Wine tastings were provided by Allied Beverage Group and Washington Selection - distributors of fine wines and beverages. The hotel's Starbucks® provided a sampling of desserts paired with various coffees from around the world. Strolling jugglers and magicians entertained the crowd in the lobby. Live music was performed by a great local band outside the beautiful new lounge while the hotel catering staff served petits fours and tea.
"It is truly amazing what can be done when you put your mind to it," stated Ms. Roos. "Everyone is enjoying themselves and amazed by the new elements and design. By acting as co-host, tonight's event provided the Edison Chamber with a wonderful launching point to the holidays."
Representing the prior owners at Starwood was Mr. Richard Veilleux, Senior Director, Owner Services of Starwood Hotels and Resorts. Borrowing a famous Edison quote, Mr. Veilleux stated, "Many of life's failures are people who did not realize how close they were to success when they gave up." He added, "Though we sold this hotel, we brought to this property its new owners, The Buccini/Pollin Group, a company with a great track record. We were confident that they could shepherd a great rebirth for us here in Edison. To Mr. Pollin and his company I say 'Congratulations!' The result is exactly what we had in mind when we started down the path of reinvigorating the Sheraton brand."
"Tonight we had over 300 people from our local community enjoy our new hotel. Our entire staff is thrilled to welcome them and our hotel guests to experience something truly special," said Earl Raven, General Manager. "From the moment of arrival you feel the warmth and comfort of our new hotel. Beyond the park-like setting that greets you, guests appreciate our unique Link@Sheraton as the showpiece of the lobby with our Chairman's Grill & Lounge (a wave to NJ's ol' blue eyes himself) adjacent, flanked by an excellent full-service Starbucks. Beyond these, our Core Fitness Facility, our meeting space and our fabulous new guest rooms make us proud. Coupled with outstanding service, our new product is an unbeatable combination."
SHARE-a-TON & SHARE-a-DREAM AT EDISON'S "ALL NEW" HOTEL
Beyond the Sheraton Edison's inclusion of the Chamber, the management team of the Raritan Center hotel "SHARED" its enthusiasm over their grand opening night with other worthwhile organizations. The evening was labeled as the "SHARE-a-TON and SHARE-a-DREAM" Holiday Party. With this formula, the hotel was able to reach out to two important local charities this evening - Edison Catholic Charities and J.F.K. Medical Foundation.
The "SHARE-a-TON" portion of tonight's grand opening party signaled the hotel's effort to provide at least one ton of food to the Edison Catholic Charities food bank initiatives. This lofty goal will be realized through a unique approach to promoting the new hotel. With each sales call to a business, the hotel drops off bags for them to fill with canned food items that it will collect from them the next week.
The hotel also has a bin for food donations inside the hotel and its own associates are making their non-perishable food contributions alongside visiting guests. These items will go towards Edison's Catholic Charities in Edison Township. Speaking at the event for Edison Catholic Charities were Mr. Wesley Moore - Division Director Housing & Social Concerns and Ms. Maria Hemerick - Director of Social Concerns who reminded the audience about the importance of replenishing empty shelves at local area food banks during this difficult economy. All interested citizens can join in this effort by bringing non-perishable food donations to the hotel to place in the "SHARE-A-TON" basket located adjacent to the hotel registration desk.
The complimenting element to the event is its "SHARE-A-DREAM" fundraising program benefiting J.F.K Medical Foundation. Starting with the grand opening event of this evening and continuing through January 31st, 2009, all reservations that are booked under the hotel's special introductory "SHARE-a-DREAM" package will benefit JFK Hospital's Pediatric Oncology Unit. All guests who book the package obtain unmatched introductory pricing at $100 a night with the added benefit that half of the money collected on every room ($50) will be donated to the Hospital for its use in pediatrics. Mr. Tom Nolan - President of J.F.K. Medical Foundation offered his appreciation and welcomed the partnership of the Sheraton Edison to assist them in their efforts to cure cancer-stricken children. Bookings can be made by calling; 1-800-325-3535 and ask for the "SHARE-a-DREAM" package or go to; http://www.sheraton.comedison
The Commemorative Toast for the opening was given by Greg Miller - President of PMHS who conceived of the evening's festivities. "This event is just the beginning of the hotel giving back to the community. In that vein, we will be repeating the SHARE-a-TON and SHARE-a-DREAM event each Holiday Season. We share the goals of the Edison Chamber and, in the famous words of Mr. Edison, we believe, 'What you are will show in what you do.' Please join me in raising your glass to dedicate the Sheraton Edison at Raritan Center."
About Edison, New Jersey
Originally known as Menlo Park and the site of an unsuccessful development in Raritan Township, the city is named in honor of its most famous citizen, "The Wizard of Menlo Park" - Mr. Thomas Edison. His Menlo Park lab was home to over 400 inventions, including the light bulb, streetlight and the phonograph.
Raritan Center is one of New Jersey's most notable developments and remains the largest business park east of the Mississippi River.
About Sheraton Edison at Raritan Center
Located in Raritan Center, the Sheraton Edison is just 14 miles from Newark Liberty International Airport, a half hour from New York City and the scenic New Jersey Shore, and only minutes away from Staten Island. The 12-story hotel is easily accessible from Amtrak, the New Jersey Turnpike, Garden State Parkway, Route 287, Route 440 and Route 1.
The heart of the hotel's energetic and interactive new lobby space is the Link@Sheraton experienced with Microsoft®, the brand's signature communications hub where guests can enjoy free Wi-Fi, desktop computers, television viewing, newspapers, magazines and can even send a postcard back home using a customized camera device stealthily integrated into the screen.
The 276 comfortable guest rooms at Sheraton Edison at Raritan Center are equipped with oversized work desks, comfortable seating and the Sheraton brand's new Sweet Sleeper™ bed, featuring a nine-layer, custom-designed ensemble by sleep experts at Sealy®. The guest rooms feature completely new furnishings, flat panel 42-inch HD TV's, remodeled bathrooms, and digital HVAC controls.
The Sheraton Edison is one of the first hotels to roll out the Core Performance® (http://www.coreperformance.com) fitness programming designed specifically for Sheraton hotels. The state-of-the-art fitness center is developed in partnership with Core Performance, an organization that trains elite athletes and Olympians and is dedicated to providing breakthrough solutions to help individuals achieve their maximum performance. Other amenities include an indoor pool, spa and sauna.
The hotel's food and beverage effort is headed by Chef John Anderson who joins the team from his successful culinary leadership of the Sheraton Meadowlands where he introduced new concepts that are being brought to the Sheraton Edison. The food and beverage facilities include the Chairman's Bar & Grill, The Chairman's Lounge and a full-service Starbucks® with a separate entrance and convenient drive-up parking. Along with abundant comfortable seating and avant-garde buffet, Chairman's has 5 oversized flat panel HD TV's and its Imagination Private Dining Room that accommodates a variety of party sizes from a dozen to forty attendees.
An ideal choice for meetings and conferences, Sheraton Edison at Raritan Center provides 13,000 square feet of function space including ultramodern meeting technologies, support staff and catering. All of the meeting rooms have been named to commemorate the inventive side of Menlo Park and Thomas Edison (e.g. the divisible rooms of the Menlo Park Ballroom are known as "Labs").
The Sheraton Edison at Raritan Center is excited to invigorate the community with this ALL NEW hotel and welcomes ideas about mutually beneficial progress for the Edison, Raritan and Middlesex communities.
About The Buccini/Pollin Group (Buccini/Pollin):
Buccini/Pollin is a privately held, full-service real estate acquisition, development and management company with offices in Wilmington, DE, Washington DC, suburban Philadelphia, Baltimore, and New York City. Buccini/Pollin has developed and acquired office, hotel, multifamily, townhouse, industrial, retail, and parking properties in the Mid-Atlantic and Northeastern regions of the United States. Buccini/Pollin has acquired or developed over $3 billion in assets including six million SF of office, industrial and retail space in 64 buildings, 3,200 hotel rooms in 17 hotels, six major residential communities, and 1,200 covered parking spaces. Buccini/Pollin is the largest privately held office landlord in the Philadelphia region.
About PM Hospitality Strategies, Inc. (PMHS):
PMHS is the hotel management affiliate of Buccini/Pollin. Based in Washington, DC, the company manages all of Buccin/Pollin's hotel assets, providing development, technical consulting, on-site management, and accounting expertise. Concentrated in the Mid-Atlantic, PMHS manages full-service and select-service hotels in the Hilton, Starwood, Marriott and Choice families of brands. Since the opening of its first hotel in 1996, PMHS has participated in the development and acquisition/renovation of dozens of hotels with a market capitalization of $1 billion. PM Hospitalities Strategies, Inc. is a Starwood Preferred Management Company for Westin, Sheraton, Four Points by Sheraton, aloft and element brands.
# # #