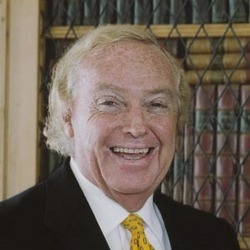 They would not have been in position to make such bad business judgments or commit such crimes had they not possessed strong leadership skills
Minneapolis, MN (PRWEB) December 16, 2008
Bob MacDonald, former CEO of Allianz Life of North America and financial services maverick, has unloaded a volley of criticism at the "deplorable ethical leadership" in American business and offered a glimpse of a new program he believes will help future business leaders.
MacDonald, writing in his popular blog, notes that America is in the midst of a financial and business crisis, the likes of which we have never seen before. "Entire industries are teetering on the verge of collapse. Great icons of American business - General Motors, Lehman Brothers, Merrill Lynch, Hartford, Citicorp, AIG and many others - have either drowned in this convulsive financial sea or appear ready to go down for the third time. Almost every day a new story of individual fraud and greed emerges of which the likes of Blagojevich, Petters and Madoff are just the most recent poster boys," he said.
That's bad enough, blogged MacDonald, but worse is the tendency for many to believe that these problems are caused by a lack of business leadership. MacDonald says the reality is that the heads of these failing companies along with the perpetrators of government and business frauds are very strong leaders. "They would not have been in position to make such bad business judgments or commit such crimes had they not possessed strong leadership skills," he said.
MacDonald claims that "It's not leadership skills that are missing; what's virtually non-existent is the combination of ethics and leadership. Anyone can recognize the lack of moral ethics in the actions of a Blagojevich or Madoff. What is more difficult to recognize is a deeper, more sinister lack of ethical leadership. True ethical leadership is simple. It is the knowledge of, and the ability to lead others, to always do the right thing. Leadership without ethics is like giving weapons of mass destruction to a terrorist. It is a recipe for disaster."
Legal vs. Ethical
The leaders of Lehmann Brothers, Merrill Lynch, AIG and their brethren did not set out to do anything illegal or even immoral, he said. Many of them would probably pride themselves on being highly ethical. However, they either did not know or forgot that ethical leadership goes well beyond doing what is legal and encompasses the broader, more humane concept of doing what is right.
"It was not illegal for AIG to sell 'credit default swaps' but it was unethical because it was not the right thing to do," said MacDonald. "It was not illegal to make sub-prime mortgages, but it was unethical, because it was neither fair nor just for the company or the borrowers. It was not illegal for executives to give themselves hundreds of millions in bonuses, but it was unethical, because it was not equitable for all."
MacDonald calls the lack of ethical leadership in American "alarming," despite the presence of many well-intended classes and programs that teach ethics. "But these programs focus on not lying, cheating and stealing. What they should be teaching is leadership skills. We need classes and programs that unite the broad concept of ethics with leadership."
Fortunately, new programs are being created that answer this pressing need, writes MacDonald. One new program about to be launched, Maggie's Imagination Farm, has joined with popular PGA golfer Tim "Lumpy" Herron to create the "Lil' Lumpy Ethical Leadership Initiative." This 3D animated, educational DVD series focuses on teaching young people the philosophy and techniques they will need to become effective ethical leaders in the future.
MacDonald, who is both a consultant and contributor to the program, said that golf was chosen as the learning vehicle because of its reputation for high ethics and individual effort. In each of 18 episodes Lil' Lumpy will be presented with and overcome incredible hazards presented by the most outlandishly designed golf courses located in places like Antarctica, Neptune and the deepest jungles of South America. The Lil' Lumpy series will teach 18 different ethical leadership traits, including "Creating Trust," "Building Parallel Interests," and "Never fearing to do the right thing."
The program seeks to target schools, churches, youth groups, parents and grandparents -- anyone or any group that is interested in helping future business and government leaders understand and practice the concept of ethical leadership.
Maggie's Imagination Farm, said MacDonald, is seeking potential sponsors and others who wish to help broaden the initiative of ethical leadership. For more information and a sample of the DVD lessons, visit http://www.lillumpy.com.
MacDonald adds that "America will continue to face many perplexing challenges at home and in the global economy and we will be in a better position to meet them if we build future generations of ethical leaders. Maggie's Imagination Farm is a good start."
The complete MacDonald report on ethics, leadership and Maggie's Imagination Farm, can be viewed at http://www.bobmaconbusiness.com. MacDonald was a CEO in the insurance industry for 40+ years. He founded LifeUSA, which he sold to Allianz SE in 1999 for half a billion dollars. Since 2002 MacDonald has headed CTW Consulting, LLC, a vehicle for offering his experience and unique approach to management and corporate culture development.
###