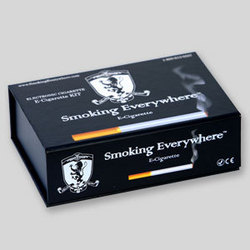 When someone craves a smoke
Fort Lauderdale, FL (PRWEB) December 15, 2008
Thanks to the invention of the high-tech electronic cigarette, thousands of people will give the gift of smoking pleasure and satisfaction this holiday season, without the harmful and potentially deadly side effects that a real cigarette causes. These revolutionary electronic cigarettes are available all across the USA through the company called Smoking Everywhere, and they make an ideal Christmas or Hanukah gift for spouses, friends, family members, or coworkers.
Picture an object that looks just like a cigarette. But actually is a sophisticated microelectronic device disguised to look like a cigarette while it delivers the nicotine cigarette smokers crave in a completely non-flammable product which has no tobacco and zero milligrams of tar. Instead of tobacco and smoke, the electronic cigarette has a tiny chamber that combines a potent and satisfying dose of nicotine with a harmless liquid. Then the mixture is heated by a battery-powered element that turns it into a mist that resembles smoke - but without fire, ash, or odor.
"When someone craves a smoke," says Smoking Everywhere CEO Elicko Taieb, "they can just activate the electronic cigarette, puff on it like a normal cigarette, and inhale the nicotine-infused vapor that instantly evaporates into the air without a trace of secondhand smoke. The vapor contains a small dose of nicotine to provide the hit or buzz that the typical cigarette smoker craves. So users get a real smoking pleasure, even in places where those who rely on conventional cigarettes are banned or prohibited. And they can do it all without polluting the atmosphere or endangering others with secondhand smoke. After they 'smoke' they just slip the electronic cigarette into a pocket or carrying case to use later."
Studies reveal that many of the victims of secondhand smoke are defenseless small children or people with respiratory ailments. Cigarette smoking also leaves sticky tobacco tar on the fingers and the delicate lining of the lungs, and can even discolor wallpaper, paint, or the interior of an automobile. Smoking leaves a stench in clothing and causes harsh bad breath, but electronic cigarettes do not. People can even enjoy convenient and safer electronic cigarettes in restaurants, bars, airports, arenas, or even in bed.
No wonder electronic cigarettes are this year's ultimate gift and a perfect "stocking stuffer" for Christmas.
For additional information call 800-613-0337 or visit http://www.SmokingEverywhere.com.
Smoking Everywhere, LLC is a Florida based company dedicated to creating a smoke-free environment by offering a healthier alternative to smoking without tobacco, tar, and hundreds of other chemicals found in traditional cigarettes. The Smoking Everywhere electronic cigarette is a completely non-flammable micro-electronic nicotine delivery device that gives users the look, feel, taste, and sensation of smoking without hazardous and annoying secondhand smoke.
Contact:
Elicko Taieb, President and CEO of Smoking Everywhere
Phone: 800-613-0337
###