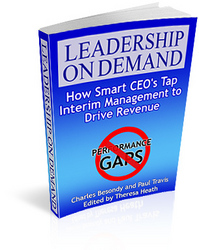 Leadership On Demand: How Smart CEO's Tap Interim Management to Drive Revenue
Austin, Texas (PRWEB) December 16, 2008
For corporate executives feeling like they are up a creek without a paddle because of staff cutbacks and the challenges of a slowing economy, there is a ray of hope--according to the recently published book, "Leadership On Demand: How Smart CEO's Tap Interim Management to Drive Revenue".
In a business environment that forces companies to accomplish more with fewer resources, the authors illustrate how the use of interim managers in key sales and marketing positions can make a difference in a short period of time without adding to fixed costs. Today, fixed staffing costs projected forward are scrutinized by banks and other credit organizations.
The book highlights reasons that CEO's engage interim managers in marketing and sales functions. Senior managers with ideal skill sets, domain expertise, industry contacts, and unbiased objectivity can be brought on board "for a season" to fill a gap or drive a critical initiative--without long-term commitment.
Through its 14 chapters, the book shows CEO's how to identify when interim management should be considered, how to structure an engagement, how to socialize the solution within the organization, how to justify the fee, etc. The book includes interviews from CEO's, COO's and Board members who share their experiences and insights about the prudent use of on-demand leaders in small and large organizations.
"Leadership On Demand: How Smart CEO's Tap Interim Management to Drive Revenue" is published by LOD Publishing, LLC and can be ordered from http://www.leadership-on-demand.com or any major online bookseller. The title is available in both paperback and eBook formats. A sample of the book (table of contents, first chapter, and index) can be downloaded for free at http://www.leadership-ondemand.com .
About the authors:
The authors and editor of the book have over 75 years combined sales and marketing management experience primarily in high tech, pharmaceutical and medical device sectors.
Charles Besondy, author. After a career holding marketing leadership positions for high-tech companies in Washington State and Texas, Besondy began his consulting and interim management practice in Austin in 2001. He is currently a principal with the nationwide firm, OneAccord LLC. His blog, One Riot - One Ranger, is a popular source of insight and leading-edge thinking on the topic of interim management.
Paul Travis, author. Having led marketing teams and campaigns for private and public companies, Travis moved into consulting and pioneered interim leadership. A principal with OneAccord LLC, he serves on the board of the Institute of Management Consultants and on the boards of two private companies. His blog, 60-Second-Marketing.com features marketing "hits and misses" every business leader can benefit from.
Theresa Heath, editor. Ms. Heath is an innovative leader skilled in creating and implementing business development plans that reinvigorate sales teams and grow new products and markets. A strategist with a global and conceptual perspective, Ms. Heath approaches problem-solving in a relational and holistic manner by utilizing experience, intuition and knowledge to craft fresh and imaginative solutions.
Book Statistics:
Title: Leadership On Demand
Subtitle: How Smart CEO's Tap Interim Management to Drive Revenue
Authors: Charles Besondy, Paul Travis
Editor: Theresa Heath
ISBN: 978-0-9802035-1-6 (paperback), 978-0-9802035-0-9 (eBook)
Category: Business Management
Length: 112 pages
Retail price: $28.95
Binding: 6"x9" trade paperback
eBook platform: Requires PDF reader software
Illustration: Charts and tables
Additions: Case studies, resources, survey, Website for the book's readers is http://www.leadershipondemand-book.com.
###