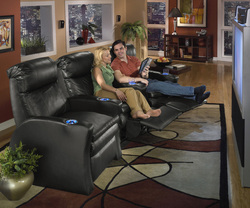 Lakewood, CO (PRWEB) December 17, 2008
Interiormark, LLC today announced that the company has relaunched its website theaterseatstore.com. The innovative website features new content and advanced ecommerce functionality to provide an excellent customer experience for buyers of customized home theater furniture. The website expands the existing options from industry leaders in home theater seating, such as Berkline, Kira Designs, Bass, and others.
Peter Goldstein, Interiormark Vice President of Sales, said that the new website includes the largest selection of theater seating products available online. With hundreds of product choices, it is easy to customize products, and the knowledgeable sales and service staff works continuously to provide assistance. For specialized seating and unique solutions to a home theater experience, Interiormark, LLC offers superior choices to their customers with their new website release.
About Interiormark, LLC
Interiormark, LLC is a leading online retailer of home theater furniture. A member of the Better Business Bureau and an industry expert in home theater seating, Interiormark, LLC is licensed to sell theater seating branded by the National Basketball Association, National Football League, National Hockey League, Major League Baseball, National Collegiate Athletic Association, and Nascar. Contact Interiormark, LLC for quality sports branded furniture, home theater seats and other specialized items.
###