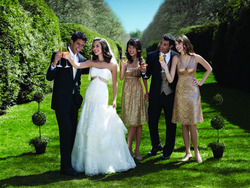 like some other retailers. We look forward to continuing the tradition of dressing bridal parties worldwide with Alfred Angelo gowns for the next 75 years.
Philadelphia, PA (PRWEB) December 16, 2008
Diamonds celebrate love, happiness and the strength of a bond between two people. For Alfred Angelo Bridal, diamonds represent 75 years of fulfilling dreams, and dressing over 7 million brides in the perfect wedding gown.
Starting in a small shop on South Street, Alfred Angelo Piccione and his sister Nancy designed one-of-a-kind, custom made wedding gowns for brides in the metro Philadelphia area. Drawing on their success in the 1930's, Alfred Piccione established the first company in history to mass-produce wedding dresses, opening multiple manufacturing plants in North Philadelphia's garment district.
According to son Vincent Piccione, "My father had a vision of bringing beautiful wedding gowns to more brides, so he created a wholesale wedding gown manufacturing business to make them more available and more affordable nationally."
Alfred Angelo Piccione soon found his own bride to marry, Edythe Vincent, who became the designer and stylist for the company. Together they expanded the business by selling the major department stores and specialty stores in the US and heavily marketing the brand.
The Alfred Angelo collections began to grace the covers and editorial pages of bridal publications, such as BRIDES and Modern Bride. The company reproduced famous Hollywood film gowns, such as Elizabeth Taylor's from "Father of the Bride", Ava Gardner's from "Pandora and the Flying Dutchman", Janet Leigh's from "Little Women", and designed gowns for recent films such as "House of Sand and Fog", "Rocky II", "The Nutty Professor 2". Alfred Angelo also provided eveningwear and finale gowns for the Miss America pageant.
In the early eighties, son and daughter Vincent and Michele became the second generation to carry on the tradition. Michele took over design and marketing, while Vincent carried out manufacturing and administrative functions of the growing business. Together they took the company international, both in sales and manufacturing, making it today one of the strongest bridal brands known. They never, however, lost sight of the pillars by which the company was built: quality and affordability with leading edge designs.
Now, designer Michael Shettel heads up the design team and three collections: Alfred Angelo, Alfred Angelo Sapphire, and Piccione. Within each collection is a broad range of silhouettes in beautiful fabrics, embellished with exquisite embroideries, beading and laces.
Says Shettel, "The 2009 collection is very special to me because of what it signifies. I looked back over our archives and saw what beautiful gowns came before: the laces, the opulence, the glamour, the classic Alfred Angelo style. I then created the 2009 line of 'new classics' in flowing fabrics and modern silhouettes while remaining true to the Alfred Angelo philosophy. There's a lot of important history here, and we are excited to be celebrating it."
On looking to the future, Vincent Piccione adds, "Alfred Angelo is what's next in bridal attire. We offer an amazing experience at all our dealer and company owned stores. Each dress is sewn only after the bride has chosen just exactly what she wants for herself and her attendants, so that the dresses received are pristine in quality, and never "off the rack" like some other retailers. We look forward to continuing the tradition of dressing bridal parties worldwide with Alfred Angelo gowns for the next 75 years."
Alfred Angelo bridal, bridesmaid, flower girl, special occasion and mother's dresses are available in over 55 company stores as well as 2500 independent retail stores across the US, Europe, Australia, Canada and New Zealand. Each store carries a selection of the Alfred Angelo bridal and special occasion collections in varying sizes, from 0 to 30W in the new Modern Fit sizing, and 2-28W in the Classic Fit sizing. Bridal styles are available in short, tall and regular lengths and in shades of white and ivory. The Dream In Color™ collection offers trim or accents in 55 colors for bridals and 55 colors in bridesmaids.
Alfred Angelo will host in-store and on-line celebrations and contests throughout their anniversary year, featuring diamond give-aways, special trunk shows and customer appreciation events. Schedules will be posted on the Alfred Angelo website.
As Alfred Angelo celebrates this milestone in the company's history, they look forward to making millions of future brides' weddings "Just As She Dreamed It Would Be" and welcoming them to the Alfred Angelo family.
###